This is an archived article and the information in the article may be outdated. Please look at the time stamp on the story to see when it was last updated.
KANSAS CITY, Mo. -- Family and friends were worried when they didn't hear from Mickell Tolbert on Monday. She never clocked in at work, which was unusual. Then Kansas City police officers discovered a woman's body at 45th and Garfield, right behind a house.
Thursday afternoon police identified that woman as 21-year-old Tolbert.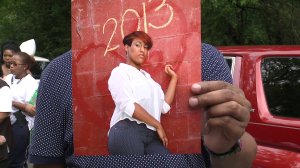 The tears kept streaming as family and friends gathered to remember Tolbert at the place her body was discovered. Her 9-year-old brother was inconsolable.
Tolbert's uncle, Michael Watson, said they walked around the area on Monday looking for her because they used a cellphone app to track her location. They said she was no where to be found.
Mothers in Charge organized a balloon release and prayers in honor of Tolbert on Thursday. Family members, young and old, hung onto each other for comfort.
"We sat them down as a family and told them Mickell is in heaven. She's in heaven now. They understand that terminology. But they're still wondering, why is she going to come through the door, doorway to heaven sort of thing," he said.
He said there's only one message: Stop the violence.
Tolbert was a third-year nursing student who worked two jobs.
Detectives are following up on leads and ask anyone with information to call the TIPS Hotline at (816) 474-TIPS.