This is an archived article and the information in the article may be outdated. Please look at the time stamp on the story to see when it was last updated.
LEE'S SUMMIT, Mo. — The arrival of October means high school football games begin to get serious.
The sense of urgency to help the family of a sick child is even stronger at Lee's Summit High School.
Their Friday night battle against neighboring rival Lee's Summit North was played as part of Siege for the Cure, an effort organized by the Tiger Football program, to help local families of life-threatening illnesses.
Step inside a waiting room at Children's Mercy Hospital, and you'll meet a blonde-haired beauty that will melt anyone's heart.
"She loves Moana and Trolls," said Ashley Henry, whose daughter Stella Henry, is winning the battle for her life.
Oncologists at Children's Mercy say little Stella, who is only 22 months old, is in remission, having endured surgery to remove a baseball-sized brain tumor in July.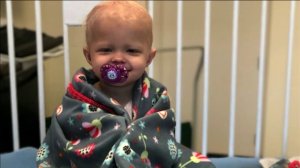 She's still receiving chemotherapy through a port in her chest, in addition to regular MRIs, which according to Ashley, show no sign of cancer in the toddler.
"We've been through everything and every emotion you can imagine," Ashley Henry said Friday morning. "She is so strong. So resilient. You wouldn't know, looking at her, that she's been through all this."
The Henrys said they never expected a streak of Tigers would swoop in to assist them. When the mother of one of Lee's Summit High's football players mentioned the Henrys, Tiger coaches named her this year's recipient of Siege the Cure.
Lee's Summit, along with Ray-Pec, Liberty and Lee's Summit North high schools, have spent the past few seasons generating support and money for families facing horrific illnesses.
"No kid should ever have to go through that. It's unfair," said Eric Thomas, Lee's Summit coach.
Thomas understands cancer's toll. His wife, Carla, is a breast cancer survivor.
On Friday, Tiger players wore special pink jerseys that showed the names of 115 local people with various forms of cancer, including one for Miss Stella.
"If our kids can take anything out of that, it's: you don't have things so hard. Going to football practice should be fun. It's not hard. Think about what some of these people go through just to save their own lives," Thomas said.
You can learn more about Siege the Cure by following this link to the Lee's Summit Football website.