This is an archived article and the information in the article may be outdated. Please look at the time stamp on the story to see when it was last updated.
KANSAS CITY, Mo. -- After a police chase ended in a deadly crash last week, the suspect's family is speaking out to apologize to the victims and their families.
Wiping tears from her eyes, Sondra Chipley cannot believer her 24-year-old niece, Victoria Brown, is charged with three counts of second-degree murder and resisting a lawful stop.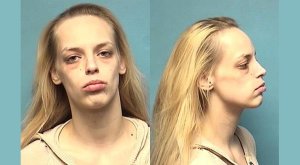 "She's like my daughter. I miss her. I really do," Chipley said. "The Victoria I know is loving and kind. This is not the Victoria that we know and love."
Brown is accused of leading police on a chase in a stolen Jeep last week near 23rd Street and Maywood in Independence. The chase ended after Brown plowed into a silver Dodge sedan and killed four people and injured three others.
Police on Saturday identified the deceased victims in the Dodge as 29-year-old AaRon Daniel, a father to a newborn; 30-year-old Shawn Johnson; and 24-year-old Anthony Belton Jr., all of KCMO. Police said the victim in the Jeep was 27-year-old Amanda Perry of Independence.
"We're not heartless. You know, we feel for those families, and we feel for this little, bitty baby that doesn't have a dad," Chipley said. "Why did she get behind the wheel? I don't know anything about that Jeep she was in nor do I know any of the people who were riding with her."
On Tuesday, Independence police released Brown's mugshot from an unrelated arrest in March. Chipley said her niece had "a drug issue" in the past, but Chipley says it's unclear if Brown was impaired at the time of the deadly car crash.
Brown's distraught mother also said her heart aches for the crash victims and their families.
"I just want to relay my condolences to all of the family members that are involved. I am sorry that this happened," Brown's mother said during a telephone interview.
"I want everybody to know that she did wrong, but as our family, we have decided that we have to stick by her through everything," Chipley said.
Chipley also said her niece suffered several broken ribs and a knee injury and is still in the hospital.
Prosecutors asked that Brown remain in police custody on a $250,000 bond. Prosecutors also say Brown could face even more charges.
"She can't have any visitors or phone calls. I just miss her so much. She's like my daughter," Chipley said.