This is an archived article and the information in the article may be outdated. Please look at the time stamp on the story to see when it was last updated.
KANSAS CITY, Mo. -- Karen Thompson held back tears as she talked about the painful and emotional roller coaster she and her family are enduring.
It's been one month since Kansas City police said someone in a pickup hit Thompson's sister, 39-year-old Amber Fellows, and kept going. Paramedics rushed Fellows to a hospital where she died.
Police tell FOX4 that Fellows' hit and run death is the fourth in Kansas City since Aug. 19.
"I cry a lot. I worry a lot about did she suffer? Was she even aware of what was going on? It's been really tough on all of us, especially her dad and her children," Thompson said Tuesday.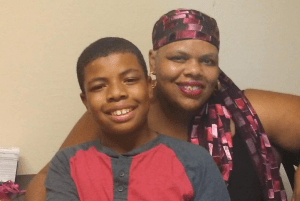 Fellows had two sons, ages 14 and 17. She was also partially blind.
"Amber was a lot of fun, and she was funny. She was spoiled because she was the baby of the family, so she really was loved," Thompson said.
"We miss her dearly. We wish we can see her, talk to her and have more funny times," said Fellows' sister, Antoinette Wells.
Fellows' tragic death happened just after 2 a.m. Sept. 9. According to a police report, Fellows was walking near 81st and Troost when a black Silverado hit her. Police found evidence, possibly pieces of the truck's front grill, in the street.
Fellows' family said she lived in a nearby apartment. They don't know where she was going that night.
"There's a convenience store over there, so I just don't know if she was headed there. It's all a painful mystery,"  Thompson said.
"It's been pretty tough with our family not knowing who did it or why?" Wells said.
Nearly one month later, there's still no sign of the driver, and that's why Fellows' family is still posting flyers with her picture on Facebook, still calling police and still pleading for the driver to surrender to police.
"Time is important. This person could have fixed that truck by now. They could be out of town or out of the country by now," Thompson said.
"Please, just come forward and let us know what happened so that we can have some kind of closure, a least, for my dad and her two sons," Wells said.