This is an archived article and the information in the article may be outdated. Please look at the time stamp on the story to see when it was last updated.
KANSAS CITY, Mo. -- On Wednesday, worried family members spent another agonizing afternoon walking in the summer heat, knocking on doors and passing out fliers with their loved one's pictures.
Heavy on their hearts was one question: Where is Meshon Cooper-Williams?
"She is a loving person. She has never been the type of person that would just run off, you know, where we wouldn't hear from her," said Cooper-Williams' niece, Darnsisha Harris.
Meshon Cooper-Williams is 43 years old. She has a 24-year-old son and a number of health issues, which makes her family extremely concerned about her whereabouts.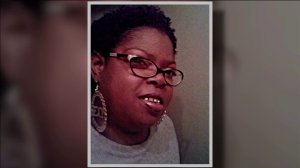 "My aunt has rheumatoid arthritis, high blood pressure and congestive heart failure. About five or six years ago, she had a kidney transplant and at one point it was rejecting her body, so she needs her medication," Harris said.
Harris said her aunt was last seen around 2 p.m. Friday after Cooper-Wiliams left her job at an Overland Park Subway restaurant.
Family members say about 13 hours later, police found the missing mom's car abandoned by a park near 7th and Myrtle in Kansas City.
"They never said anything about the doors being opened or shut. Her keys were in the car, and the car was running. They found her car around 3 a.m. Saturday," Darnisha Harris said.
The family checked hospitals, but still no sign of  Cooper-Williams. The also said when they call her cell phone, it goes straight to voicemail.
Worried family members filed a missing person's report. Kansas City police also posted a flier of Cooper-Williams on the police department's social media, hoping it will help them find the missing woman and give her family peace.
"It's a hurtful feeling. Nobody wants to know that they're loved one with health issues is just out there. You have no access to them. You don't now where they're at or what they're doing. It's just hard on us," Twila Cooper said.
If you see Cooper-Williams or have any information about her whereabouts, call 911 or KCPD at 816-234-5111.