This is an archived article and the information in the article may be outdated. Please look at the time stamp on the story to see when it was last updated.
ORRICK, Mo. --  The father of two boys who died in a fire inside the family's trailer in Orrick, Mo. in December faced a judge on Friday in Ray County.
Randy Garrison, 31, is charged with two counts of child abandonment.
His sons, Roger Wayne, 3, and 21-month-old Ashton Michael were trapped inside the burning trailer home in Orrick, which is about 35 miles northeast of Kansas City.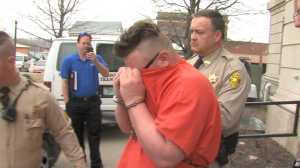 In court on Friday, Garrison pleaded not guilty and asked the judge to reduce his $100,000 bond, but the judge denied the request.
"I advise you to get an attorney," the judge said, and then set Garrison's next court date for April 1.
Police believe Garrison was not inside the trailer at the time of the fire; that he left them alone, although Garrison claimed he was there and tried to save them and suffered burns and injuries in the process.
They also say Garrison tried to pin the fire on the boys' mother, who says she woke up Garrison and told him she was leaving the trailer to run errands. He also claimed that the boys' bedroom door was tied shut, preventing Garrison from getting to them. Garrison implied it was Tamara Willis, the mother, who trapped the boys inside their room.
However, police did not believe Garrison's version of events.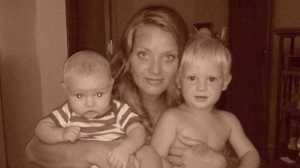 On Friday, Ashton, the youngest of the boys would have been two-years old.  Before Garrison's arrest, the Garrison family planned to release balloons at the gravesite in memory of Ashton and Roger.
Because he's in jail, Randy Garrison's mother, sister, and other family members went without him on Friday.
"I'm trying to, I guess, let him know there is still hope. This investigation is so wrong," said Garrison's sister, Christina Johnson.
But police say the evidence shows Garrison was not in the burning trailer. Police said the medical staff that treated Garrison did not see any burns on his face, hands or clothing. A nurse reported that Garrison, although he claimed to be in the smoke-filled house for some time, did not cough as she would expect from someone who inhaled so much smoke.
Police also say Garrison's story doesn't add up because they believe the boys would not have been able to scream, as they were overcome with smoke. They also say in addition to no evidence of burns on his hands, feet or face, Garrison's white shirt was not soiled with soot, burns or smoke.
"These balloons are from your daddy. He loves you," they said at Ashton's and Roger's graves.
The charges against Garrison carry up to 15 years in prison. The cause of the fire is still under investigation.
Earlier coverage: