This is an archived article and the information in the article may be outdated. Please look at the time stamp on the story to see when it was last updated.
KANSAS CITY, Mo. -- A volunteer K-9 handler is responsible for finding a metro boy, who police, FBI agents, family, friends and even strangers had been searching for since Saturday.
More than 30 hours after he disappeared 11-year-old Alex-Zander DeVore has been found safe.
Shortly after 9 p.m. The boy's parents were still waiting to be reunited with him even though he was found safe around 6:30 Sunday evening, however around 9:30 p.m. Alex-Zander was finally reunited with his family.
Family told FOX 4 that Alex-Zander was found playing with other kids in a backyard on 83rd street in Raytown, not far from Spring Valley School.
It was a volunteer K-9 handler who made the big find, after his dog picked up the boy's scent in the area. Two family members were with him when he made the discovery.
"He's in great health. Everything was fine. He was just playing with his friends in the backyard," said family member Josh Pauley. "Relief, just straight relief. I'm just glad he's okay."
"He found some friends, and he stayed the night with a friend, and that's it. He was just hanging out, and that's it," said Alex-Zander's mother, Trina Merriott on Sunday night.
Earlier on Sunday the FBI become involved in the search for the 11-year-old.
FOX 4 was there as they searched the boy's father's home, as well as an abandoned house nearby, which turned up nothing.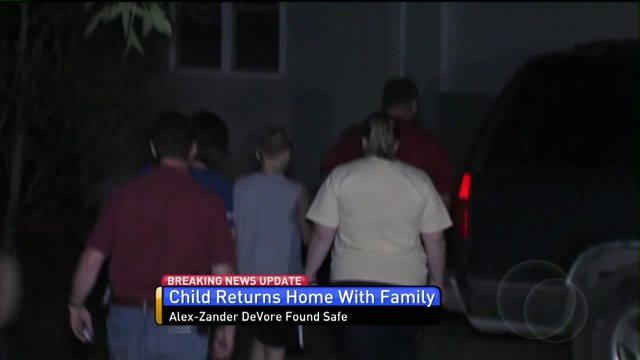 Extended family members were at the boy's father's house Sunday night waiting for Alex-Zander and his parents to return home after being reunited.
The family shared a meal together at Sonic, then walked the boy inside once they returned home. Alex-Zander reportedly told his family he doesn't plan to run away ever again, and was excited to sleep in his own bed Sunday night.
"I mean he is pretty upset that he made, he said he made a bad choice to leave without us and that he's never going to do it again, and we're going to hold him to that," said Merriott.
Previous coverage: