This is an archived article and the information in the article may be outdated. Please look at the time stamp on the story to see when it was last updated.
KANSAS CITY, Kan. -- The sudden death of a KCK teen has left his family and friends stunned and heartbroken.
Police said Monday that a shooting occurred around midnight Sunday near 6th Street and Stewart Avenue. One person was reportedly shot and taken to the hospital where he died early Monday morning.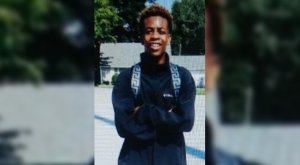 Police have not yet named the victim, but Telesha Bennett, a family friend, identified him as 16-year-old Hakim Ali.
Bennett said Ali was her best friend's son, and was like a nephew to her.
"When you saw Hakim, he was always smiling," Bennett said.
Family and friends say behind the glowing smile was a young man who was a 10th grader at Washington High School, a member of his school's junior ROTC program, and a kid who loved to play basketball.
"He was friendly, funny. He was a joker. Just joked a lot, never a serious moment," said cousin Terrion Hudson.
Family told FOX 4 Hakim was at home in KCK with his mom and five siblings Sunday night. Around 11:30, friends said the teenager went outside, but it's not clear why. Bennett said within moments, Hakim's mom heard at least two gunshots and dashed outside to find her son shot, crying out to her.
Monday afternoon, family members placed flowers at the spot where Hakim collapsed.
"It was heartbreaking, terrifying. It was unbelievable," Hudson said.
"That smile. It's heartbreaking. It really is," Bennett said.
Investigators said they found a BB gun at the shooting scene. They said they don't know who it belonged to, nor do they have any suspect information at this time.
Bennett said to her knowledge, the teen wasn't into anything bad, wasn't fearful of anything, and didn't have any enemies. She said the family doesn't know why anyone would want to kill him.
As police search for the boy's killer and a motive for KCK's 33rd homicide of the year, Ali's loved ones made a tearful plea.
"Somebody knows something," Bennett said. "I just feel like if you know something please come forward and help this family during their time of grief."
Ali's loved ones gathered together Monday afternoon to release balloons in his honor.
The family has set up a YouCaring fundraiser to help pay for Hakim's funeral expenses.