This is an archived article and the information in the article may be outdated. Please look at the time stamp on the story to see when it was last updated.
MERRIAM, Kan. — A missing dog was rescued and taken to the Great Plains SPCA in Merriam where he was waiting to be reunited with his family. But then someone else interested in adopting a dog took off with him.
Employees at the shelter say they didn't realize what was happening until it was too late. Now, Alfie's rightful owner is asking for your help.
It's still unclear how all this happened, whether the person who took the dog was confused about the shelter's policies, or if they stole Alfie.
But one thing is clear: His family wants him back.
"I could understand why walking up and seeing him out in the parking lot, a little kid or even a family would say he`s a sweet little dog that I would like to own," said owner Scott Jablonski.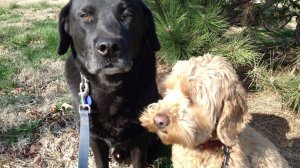 His cocker spaniel-poodle mix was waiting to be reunited with his family at the SPCA's lost pet shelter Saturday, just hours after he got spooked by a thunderstorm and ran away from home.
"For us, it was just worrying, knowing that he might just head for the hills," Jablonski said.
In his short time at the shelter, another family spotted Alfie and asked to adopt him. The shelter declined, explaining its policy of waiting five days for Alfie's true family to claim him.
But for whatever reason, they took off with him anyway.
"It`s frustrating that it`s not as though Alfie was gone or lost for a week and we didn`t try to find him. It was all of an hour or less and it quickly kind of got out of hand," Jablonski said.
Jablonski sincerely believes the act was not malicious and says it could have just been a case of miscommunication.
"It`s no hard feelings. I understand that sometimes if you haven`t adopted a dog before, you don`t know the policy, you don`t ask tons of questions, sometimes things seem too good to be true," he said.
He hopes whoever took Alfie realizes he's a member of the Jablonski family and should be returned home, where he belongs.
"He`s only three years old. He`s got a lot of life left in him and hopefully a lot of life left with us," Jablonski said.
If you've seen him in your neighborhood, or know who might have taken him, call GPSPCA's Lost Pet Center in Merriam at (913) 742-7329.