This is an archived article and the information in the article may be outdated. Please look at the time stamp on the story to see when it was last updated.
KANSAS CITY, Kan. -- Following Sunday's tragic news of Caleb Schwab's death on the Verruckt at Schlitterbahn, other families are coming forward to share their own scary close calls on the world`s tallest water slide.
The Conrad family has season passes to Schlitterbahn and say they`ve never had any issues, except for last summer when dad Kenneth and his best friend Matt decided to take the plunge on Verruckt.
Photos snapped by Kenneth`s wife, Erica, as their raft neared the end of the slide show Kenneth in the middle, and Matt in the back. The photos show Matt`s hook and ladder harness is missing.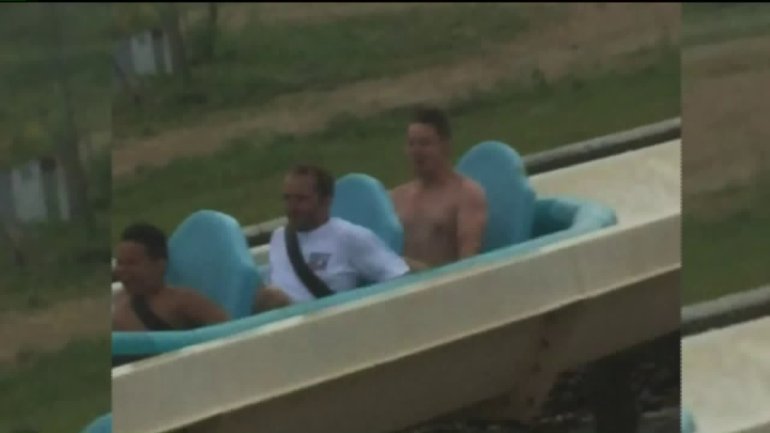 He says it after the first drop, it popped off - leaving him holding on for dear life with just his hands as they hit speeds of up to 65 miles per hour.
"As we were going down, we went down the first one, and as we were approaching the second one, he was in the back and you could hear him say that his strap came off and when we hit, he was real tense, shaken, because his strap had come completely off and literally he was using all of his force to hold him onto the slide," Kenneth recalled.
The scary experience had this family feeling shocked by Schwab`s death on the same slide, but also thankful it didn`t happen to them.
"When it happened, I`m thinking thank God that it wasn`t my best friend, because I`m the one that invited him there that day and it that would`ve been a hard situation. I would`ve felt like it was my fault for inviting him there that day," Kenneth said.
"It was very devastating, very devastating news and like I said, we have children around the same age and had anything ever happened, I just can`t even fathom what I would be going through," Erica said.
Their friend Matt did not file a complaint the day his harness came off, but he says after seeing what happened to Schwab, he plans to report it this week.