This is an archived article and the information in the article may be outdated. Please look at the time stamp on the story to see when it was last updated.
PLATTE COUNTY, Mo. -- Family members are standing behind a person of interest in a homicide case that left four family member's dead. Detectives had been searching for 24-year-old Grayden Denham, and Sunday night announced he had been located.
Investigators wanted to talk to Denham about the fire that killed his grandparents, sister and 3-month-old nephew.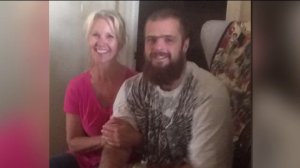 "This is a parent's worst nightmare. I wouldn't wish this on anybody. My life's been changed forever," Shelly Denham, Grayden's mother, said.
In one night, Shelly lost her daughter Heather, her infant grandson Mason, as well as her former in-laws Russ and Shirley. They were found dead in their home near Edgerton, Mo. in a fire that is being investigated as a homicide.
Grayden was named a person of interest in the case Sunday morning, and was located by authorities in Arizona. According to authorities in Yavapai County, Arizona, Denham was found at about 7:30 a.m. Sunday walking in town completely naked.  Police say he gave them his wrong birth date and they could not find a record of him. Due to concern for his medical condition, he was taken by ambulance to Flagstaff Medical Center.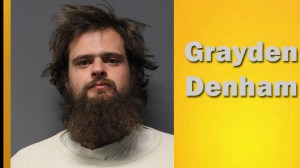 About two-and-a-half hours later, a motel manager in Arizona became suspicious of a vehicle parked on the property and called police. The car was unlocked with the key in the ignition and clothing laying on the ground next to the car. A wallet in the pants contained a Missouri ID card and showed the name Grayden Denham.
"This family loves him no matter what. We're glad that he's been found alive," Grayden's uncle Kevin Shelton said.
Smoke and flames broke out around midnight on Friday and the four family members were killed in what detectives are calling a homicide. Detectives are hoping Grayden Denham can help answer some questions in the case, but hadn't named him a suspect.
Family members say they have no idea what happened, but still believe Grayden is innocent.
"I think that it would be very important not to jump to conclusions. I've done that before, and I've been wrong. I'm going to try not to do that now. The first step is just try and figure out what happened and let it lay where it lay. I think that's the most important thing," Shelton said.
Family said they hadn't been able to reach Grayden since the fire.
Police in Arizona said the car they found at the motel was a Nissan with an Oklahoma license plate for the rental car. However, the vehicle identification number (VIN) did not match the license plate record, but instead matched a stolen vehicle reported out of Platte County. Denham was arrested at the Flagstaff hospital on charges of theft and displaying a fictitious license plate.
As the investigation is ongoing, authorities are still encouraging anyone with information about this case to call the TIPS hotline at (816) 474-TIPS.