This is an archived article and the information in the article may be outdated. Please look at the time stamp on the story to see when it was last updated.
LEAVENWORTH, Kan. — A grand jury has indicted a former Leavenworth police officer accused of killing a 47-year-old man when responding to a disturbance call last summer.
Leavenworth County District Attorney Todd Thompson said the grand jury has charged former officer Matthew Harrington with involuntary manslaughter in the death of Antonio Garcia Jr.
The news was a big relief for the Garcia family.
Harrington was called to a house on Rose Street in July 2017 after Garcia and his stepson got into an argument over a car. Ken Barnes, attorney for the Garcia family, said Harrington shot and killed Garcia after their dispute was resolved.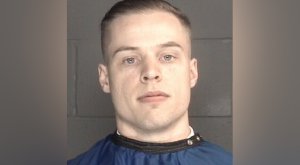 Harrington's body camera played a key role in the indictment.
"He radios back to the other officers that it is a civil dispute and that he is going to leave, and then I don't know for what reason he thought it was appropriate for him to go jerk the car door open that Mr. Garcia was in and start this altercation," Barnes said. "He had already concluded the matter he was called there for, but he decided to confront Mr. Garcia in a very aggressive way."
The video from Harrington's body camera has not been released because it's evidence in the criminal case, but Barnes said he has seen it.
"I was horrified. It was scary. It was frightening because you have a civilian in a car who is not making any attempt to threaten or harm the officer, and for whatever reason, this particular officer made a very bad decision that day. He pulled his service revolver and ended a man's life that he didn't need to do that," Barnes said. "I mean there was no provocation. There was no reasonable reason for him to pull the trigger that day."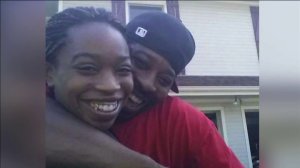 Barnes said Garcia was sitting in his car and would not allow Harrington to open his car door. Instead, he talked to the officer through the window. Barnes said then he saw the situation escalate.
"It shows Mr. Garcia not trying to engage with the officer, but the officer pulling his pistol and backing up to the left behind his vehicle and firing multiple shots into Mr. Garcia's back through the back window behind where Mr. Garcia was seated," Barnes said.
Thompson, whose office is prosecuting this case, could not comment on Barnes' account of what happened.
In a news conference, Thompson made it clear that Harrington's actions are not a reflection of Leavenworth's law enforcement agencies, calling them the cornerstone of our community.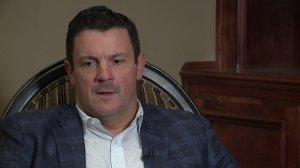 "I know that our community, the Leavenworth community, will continue to respect not only the laws but our law enforcement, our police officers, our sheriff's deputies. I am confident that we will continue to abide by the laws of this great state," he said.
Harrington's attorney released the following statement Monday afternoon:
"Although tragic for all involved, Officer Harrington used force only in response to a clear and immediate threat to his life. We are confident that justice will be served when officer Harrington is exonerated based upon the reasonableness of his actions."
Harrington is being held on a $50,000 bond. If found guilty of the involuntary manslaughter charge, he could spend anywhere from two-and-a-half to just over 11 years in prison.
Harrington's next court date is Sept. 26.