This is an archived article and the information in the article may be outdated. Please look at the time stamp on the story to see when it was last updated.
KANSAS CITY, Mo. -- Jackson County prosecutors announced new charges related to the April 21 shooting death of 2-year-old Shaquille Kornegay.
Police initially charged the victim's father, 24-year-old Courtenay Shaquel Block, with 1st degree endangering the welfare of a child, armed criminal action, and tampering with physical evidence.
Jackson County Prosecutor Jean Peters Baker held a news conference at the Downtown Jackson County Courthouse on Wednesday to announce that their investigation has prompted a charge of murder in the 2nd degree or felony murder, in addition to charges of 1st degree endangering the welfare of a minor, neglect of child resulting in death, tampering of evidence, and possession of marijuana.
Officers were called to the home near 21st Street and Lawn Avenue just after 1:30 p.m. that day, where witnesses told FOX 4 it looked like the girl had been shot in the head. Police said the only other person in the home at the time was the girl's 3-year-old brother.
A news release from the Jackson County Prosecutor's Office said the daughter "shot herself in their residence."
Block told police he kept a loaded handgun in his residence, according to court records. He said he heard the victim crying and saw his handgun on the floor next to her. He then reportedly picked up the gun and walked to the bathroom to conceal it before he walked outside with the victim and alerted a neighbor, who called police. Officers found the handgun in a bathroom floor vent covered by a child's t-shirt.
Kornegay's cousin, Joshua Jones, who used to live at the home told FOX 4 the family believes that both the father and 3-year-old boy were asleep at the time of the shooting.
"We have a special responsibility to the protection of our most vulnerable population: our kids," Baker said at the conference. "And to protect those children sometimes means we have to take affirmative steps to keep them safe. Now when our decisions not only fail to protect our kids, our most vulnerable population, but they create that very risk that harms them, then those people must be held into account."
Baker said the charges represent a "continuation of a problem," of the failure to protect children from gun violence.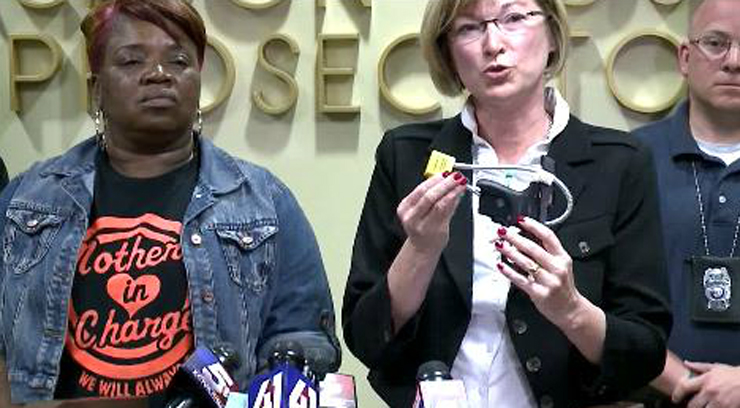 Baker expressed hope that even just one person might see this case and decide "that their child's life is worth more than a ten dollar gun lock," adding that gun locks are widely available free of charge at multiple locations in the metro area with no questions asked, even stating she herself "will give you one for free."
Baker stood with a somber Rosalyn Temple, founder and Executive Director of Kansas City's chapter of Mothers in Charge, an organization dedicated to reducing crime through violence prevention, education and intervention, and support of victims' families.
"If there are guns in your home, you can take responsibility today for safety precautions," Baker stressed. "You can begin to secure your weapons with the respect that weapons actually deserve."
Baker pleaded with parents, grandparents, or anyone with children in their home to take responsibility and secure their weapons.
"The truth is these deaths are all preventable, and those deaths of those children should do more than just serve as a reminder that we need to do better. It should be that we are motivated to actually do something better."
Murder in the 2nd degree or felony murder is a Class A felony punishable by up to 30 years in prison.
Block is currently held in the Jackson County Detention Center. Prosecutors have requested that Block's bond be increased to $250,000.