This is an archived article and the information in the article may be outdated. Please look at the time stamp on the story to see when it was last updated.
KANSAS CITY, Mo. - Torture, grief and pain: Those are the emotions shared by a metro father whose son was killed in a shocking car crash at 35th and Euclid.
Those who remember James Palmer III fear he was robbed as he lay dying on the roadside as a result of that crash on May 1.
James Palmer Jr. said life will never be the same since the fatal crash. First-responders swarmed that area of east Kansas City two days before Palmer would have turned 24 years old. The crash killed Palmer, who had been at the wheel of his Chevrolet Tahoe, which was found on its side when police arrived.
Police have since arrested 29-year-old Riana Sanders, who, according to police documents, failed to stop at that intersection's stop sign, hit Palmer's truck and sent her own SUV onto northbound U.S. 71 below.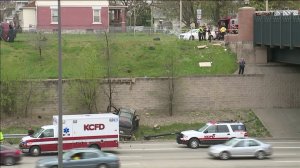 "This is where everyone has to travel," the elder Palmer told FOX4 on Thursday, addressing the stretch of road that reminds him of his son's tragic death.
James Palmer Jr. said his son was known to his friends as "Junebug," and he worked as a cashier at an area gas station near his home in Independence.
"It was unimaginable. You see it every day. You hear about it every day. Nothing prepares you when it actually does happen to you," Palmer said Thursday.
The Palmer family believes "Junebug" was robbed while first-responders were rushing to the scene that afternoon. James Palmer Jr. said the family knows it can't recover the money his son was carrying that day or the iPhone 6 he owned. Both were reported as missing to police officers.
The Palmers want the phone back since, according to the elder Palmer, it contained music and photos that are special and will help bring closure.
"In the midst of this accident, people who came out trying to help? The only thing they did was help themselves. They took his money. They took his phone," Palmer said.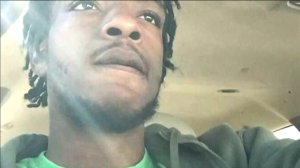 James Palmer Jr. said the phone was equipped with the popular 'Find My iPhone' mobile app, which can be used to track a missing mobile device. However, police reports indicate the family is unable to use the app since they don't have "Junebug's" username and password.
"The hardest part is that you know he's not coming back," said Lula Hawkins, "Junebug's grandmother. "(The missing phone) is a personal thing, to bring closure to the family, memories. We'll try to move on, day by day.
As for Sanders, court records indicate she's due back in court on June 7. She faces four felony charges, including involuntary manslaughter, running from police and drug possession.
"I believe in God. I believe he is a righteous judge," Palmer said.
The Palmer family is also asking the public to get involved. James Jr. asks that people who travel here contact the city to complain about this intersection, where a number of similar accidents have occurred, and for witnesses to that crash to come forward and testify.