This is an archived article and the information in the article may be outdated. Please look at the time stamp on the story to see when it was last updated.
KANSAS CITY, Mo. — According to police, as of Friday morning, there have been 107 homicides in Kansas City. Just hearing that number saddens and disturbs the owner of Elite Funeral Chapel.
"Anybody with a conscious, this would have to bother excessively," Malcom Morris said.
Morris is a busy guy. His phone is always ringing, but there's one type of phone call the longtime funeral home director won't take anymore.
"I can't do it. I am an independent. We are family owned and operated," he said.
Five years ago, Morris decided he'll no longer prepare funerals of homicide victims unless he personally knows the victim's family.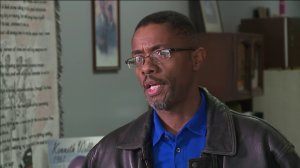 "I have to really, really know the family to take that on because I have to give the family my very best, and I can't do that with an attitude or being angry," he said.
Morris is burned out.
The 55-year-old grandfather said he's tired of seeing the heartbreaking images, particularly of so many young people who lost their lives to gun violence. They're images that Morris admits have taken an emotional and mental toll on him and his staff.
"One of the main reasons I stopped is because, after I got home, I found myself drinking more just to go to sleep, just to get rid of the images," he said. "So I have to worry about my personal welfare."
And despite only taking on funerals for families he knows, Morris said in just the past year, he's prepared services for 20 homicide victims. He said those victims were all young people who ranged from 4 to 23 years old, and most were black males.
"We're losing not one generation but entire generations to gun violence," Morris said.
"I want to bury old people. I want people that have lived their lives," he added.
The local business owner who followed in his father's footsteps isn't worried his "decision to be selective" could hurt his business.
Instead, the Kansas City native is standing firms and vowed he'll keep serving his community his way.
"I have a commitment to the first 150 families my family started serving in the 1980s, and I'm committed to those families to care for any of their loved ones," he said.