This is an archived article and the information in the article may be outdated. Please look at the time stamp on the story to see when it was last updated.
KANSAS CITY, Mo. -- The U.S. Department of Transportation has awarded $25 million through the BUILD Grant to the new Buck O'Neil Bridge Project.
"Up to this point we'd been looking at around a $50 million shortfall. About a $200 million project. We felt like we'd identified the majority but we're still about $50 million short, so this $20 million is a big step forward towards closing the gap and getting this thing built," said Brian Kidwell, Missouri Department of Transportation district engineer.
North Missouri Congressman Sam Graves posted to Twitter about the approval of the grant, as did U.S. Senator Roy Blunt, who earlier this year sent a letter to Department of Transportation Secretary Elaine Chao urging the approval of funding for the bridge.
"I am thrilled that this project has received a BUILD grant. This is a great program that really represents our renewed focus on infrastructure and there is no doubt that the Buck O'Neil Bridge is in desperate need of attention," Graves said in a statement.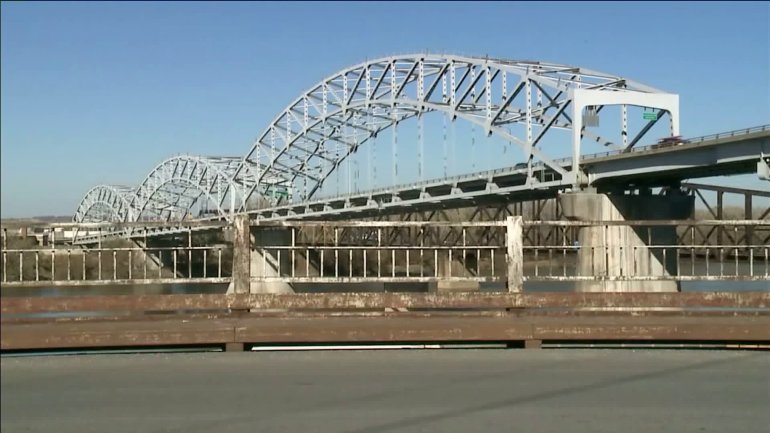 "Replacing the decades-old Buck O'Neil Bridge is great news for the region and the thousands of people who travel over the Missouri River every day," Blunt said in a statement. "The new bridge will have a wider span to reduce congestion and separate lanes for pedestrians and bicyclists to improve safety. I've been proud to advocate for funding for this much-needed infrastructure project, which will pave the way for stronger economic growth in the region."
Kansas City Mayor Sly James was also excited about the additional funds for the project.
"It's certainly going to help with regards to the regional share. As you know, our $100 million is composed of Kansas City money but also money that came through the Federal Government through STP funds we use, cities, and municipalities have agreed to give up," James said. "Every time we get some funds coming in from other sources, it lightens the load on all of us. So very grateful for the work of Congressman Graves and Senator Blunt. Both of whom called me today on their efforts for that. I think it's a great day for the city."
Along with the $25 million grant, MoDot plans to cover half of the cost to the bridge, and another $60 million or so will come from a sales tax Kansas City voters approved earlier this year.
Kidwell said project funding is still about $25 million short, but Thursday's announcement was a significant step in bringing a new bridge to metro drivers.
"We're in the middle of a big environmental study really trying to refine acceptable options and working with our partners in KCMO and trying to figure out what the acceptable and unacceptable solutions or alternatives would look like and get that hammered down," Kidwell said. "The study is looking at what the right thing to do in this corridor. Is it to invest a bunch of money in a rehab of an old bridge? Is it to build a new bridge in the same location? Would it be better to move a new bridge up or down stream? What are the impacts of having a direct connection to I-35?"
MoDOT closed the bridge for most of the year as it performed repairs to extend its usability. The bridge is 62 years old and has undergone multiple repair efforts. The most recent repair extended its life only another five to 10 years.
"If we can get to the finish line, get the rest of the funding identified, get the environmental process completed, get the right fix, figure out what the public really wants and what works best for the region. We keep moving forward and get this thing under contract one of these days and we`ll get the public on a new bridge they`ve been wanting," Kidwell said.