This is an archived article and the information in the article may be outdated. Please look at the time stamp on the story to see when it was last updated.
BATON ROUGE, La. — Federal prosecutors and agents involved in the investigation of Alton Sterling's death have concluded there's not enough evidence to charge either officer involved, said Corey Amundson, acting US attorney for the Middle District of Louisiana.
Sterling was killed by police in Baton Rouge, Louisiana, in July 2016. Cellphone video showed Sterling was pinned to the ground before he was shot, but police said he was reaching for a gun.
After 10 months of grieving and wondering, Alton Sterling's family met with Justice Department officials to learn whether police officers would face federal charges, but even before the decision was announced, the family was livid after reports surfaced Tuesday that the Justice Department has decided not to prosecute the two officers.
"It's not right," Sterling's aunt, Sandra Sterling, told CNN. "Lord have Mercy. Oh my God."
Sterling was outside a Baton Rouge convenience store on July 5 last year when officers responded to a report of a man with a gun outside the store. A bystander's video shows the police pinning Sterling, a black man, to the ground before shooting him, leading to widespread criticism and renewed "Black Lives Matter" protests.
Shot on the ground
The killing gripped the nation because two bystander videos, each less than a minute long, captured Sterling's struggle with the two officers, both of whom are white.
During the news conference, which FOX 4 streamed live on our Facebook page, officials explained in detail what they saw in the video and why it did not meet the standards to file charges against the officers.
Sterling's fatal encounter with police started when he was standing outside the convenience store where he frequently sold CDs and DVDs. Someone called 911 to report a man outside the store with a gun.
Video shows an officer rushing Sterling and pulling him to the ground. The other officer helps restrain Sterling. Someone shouts, "He's got a gun!"
The convenience store owner said officers deployed a Taser twice.
Police eventually manage to pin Sterling to the ground, with one officer straddling him. In one video, an officer draws something from his waistband and points it at Sterling. As the camera turns away, more yelling ensues, followed by several loud bangs.
Afterward, the camera captures Sterling with a large bloodstain on his chest as an officer on the ground next to him keeps his gun pointed at Sterling.
As Sterling lies fatally wounded, the other officer removes something from Sterling's right pocket. Police Chief Carl Dabadie Jr. said Sterling was armed at the time, and a witness said the officer removed a gun from Sterling's pocket.
In a search warrant affidavit, a detective wrote that officers saw the butt of a gun in Sterling's pants pocket, and "the subject attempted to reach for the gun."
The two officers, Blane Salamoni and Howie Lake II, were placed on administrative leave. A police incident report does not specify who shot Sterling.
State charges possible
It is unclear whether the state will pursue charges. Louisiana Attorney General Jeff Landry tweeted he will comment after the official Department of Justice announcement.
Sterling's family said the father of five was minding his own business and did not deserve to die.
"Alton was out there selling CDs, trying to make a living," family attorney Edmond Jordan said. "He was doing it with the permission of the store owner, so he wasn't trespassing or anything like that. He wasn't involved in any criminal conduct."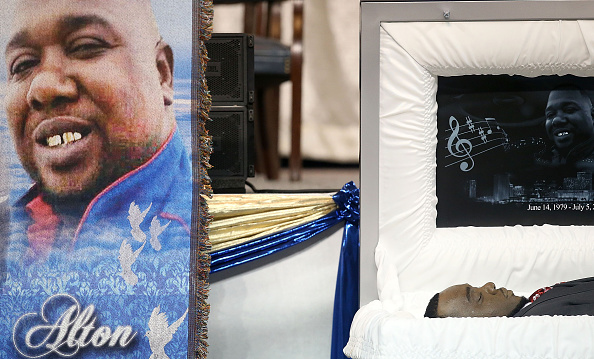 The Justice Department's reported decision not to charge the officers may not be the final legal chapter in a case that reverberated far beyond Louisiana's capital.
The department's decision doesn't preclude state authorities from conducting their own investigation of Alton Sterling's fatal shooting last summer and pursuing their own criminal charges in the case.
Sterling's family is meeting with federal prosecutors and the FBI and also plans to speak to the media after the meeting Wednesday.