This is an archived article and the information in the article may be outdated. Please look at the time stamp on the story to see when it was last updated.
KANSAS CITY, Kan. — The last suspect charged in the shooting of a Wyandotte County Sheriff's deputy was sentenced to life in prison, plus 447 months, on Friday.
Charles Bowser was charged and found guilty of attempted capital murder along with numerous other charges in connection with the shooting of Deputy Scott Wood in March 2015.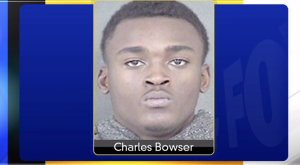 Court documents say Wood was shot seven times, including once in the head, as he tried to stop Bowser and two other suspects from robbing a Kansas City, Kansas, 7-Eleven gas station.
Wood spent more than two weeks in the hospital before he was released.
The other two other suspects, Dyron King and Cecil Meggerson, are already serving life sentences.