This is an archived article and the information in the article may be outdated. Please look at the time stamp on the story to see when it was last updated.
NORTH KANSAS CITY, Mo. -- Smoke filled the air Tuesday for miles after a building in the heart of downtown North Kansas City caught fire.
Thick plumes of smoke billowed from the Galls Building at 1900 Swift.
"Black smoke coming straight from the ceiling," two witnesses said.
During the lunch hour, the building started showing just a little smoke, and those working inside could smell it right away.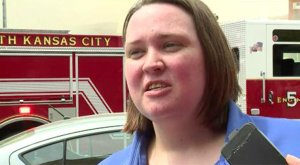 "One of the gals was talking about smelling barbecue then firefighter comes in and tells us we all need to evacuate, the building's on fire," said Joelle Pemberton who works at the Galls Uniform Company as a sales rep.
Danielle Palaska works next door. Her boss called her back from lunch to help save files from their law office. From the 4th floor, she took a couple of videos as the massive fire unleashed.
"You could see the roof start to buckle and there was a hole, it was just melting and all the flames starting coming through," Palaska said.
Keith Phillips works in the same building. He sat in his office just watching the fire burn for almost an hour.
"It got so hot we could feel the heat through the glass on our side of the building there where it was," said Phillips.
Moments later, fire crews came barging in telling everyone to move fast.
"When we had to evacuate, everyone went around to different floors shouting, 'Get out, get out, get out!'" Palaska said.
The fire sent huge flames and thick smoke clouds high into the air. Windows burst from the pressure. Air conditioning units on the roof exploded. Everything inside was gutted.
"It's overwhelming. I can't even find the words for it," said Pemberton.
Galls Uniform Company, which supplies many first-responders with uniforms is on the main floor, along with another warehouse. Insurance and law offices are up top. Dozens of workers and customers at nearby businesses went running to the streets, capturing images as it all unfolded.
"In my mind, I just thought it was a drill. Yeah, yeah, yeah. Took my purse and we came out there's lots of smoke. Obviously got darker and thicker and flames started coming. It was pretty scary," said Maria Pinon, who works in the building that burned.
Everyone is thankful that three fire departments took fast action to evacuate those inside and nearby and that no one was hurt in the process.
"I feel so lucky to have gotten out," Pemberton.
Of course it is too early to know what might've started the fire.
But we're told it initially came in as smoke on a deck and workers tell us there is a second-floor patio where people go for smoke breaks.
The weather quickly allowed the fire to get out of control in a hurry, with winds fanning the smoke and flames.
A total of 13 businesses were located inside the building.