This is an archived article and the information in the article may be outdated. Please look at the time stamp on the story to see when it was last updated.
KANSAS CITY, Mo. — Firefighters battled frigid temperatures while also fighting a house fire in the 2900 block of The Paseo Friday afternoon.
When firefighters arrived, heavy smoke and fire were seen coming from both floors of the home, believed to be divided into apartments.
"Our crews were able to make entry. We had to exit the building at one point because the building became unstable. We were able to stabilize it and made entry again and now we have the fire under control," said James Garrett, KCMO Fire Dept. spokesman.
Paramedics were on-hand to assist and monitor the firefighters if needed as firefighters worked in the frigid temperatures.
"The weather does affect our response. We have a more delayed response when the streets are icy and the weather is what it is," Garrett said. "And then it affects us as we're fighting the fire as well because we have to fight the elements and then the water turns to ice after a little bit. So again it makes it a little bit more hazardous on the scene. We're used to this kind of weather though."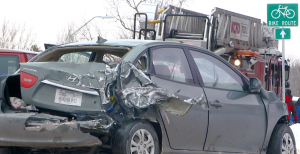 On the way to the fire, a fire truck and a car were involved in an accident at Linwood and Paseo. Capt. Garrett said the fire truck was going northbound on Paseo and the car was heading eastbound on Linwood when the crash occurred.  Garrett said the female driver attempted to stop, but skidded into the truck. She at first refused medical attention, but later agreed to go by ambulance to be checked out. Her injuries were considered minor.
The cause of the fire remains under investigation.
Download the fox4kc app to stay informed FOX 4 Android app | FOX 4 iPhone app