This is an archived article and the information in the article may be outdated. Please look at the time stamp on the story to see when it was last updated.
OVERLAND PARK, Kan. — More than 40 investigators from the fire and police department, along with the ATF, will be in Overland Park Tuesday to begin determining exactly what caused the massive fire that destroyed two apartment complexes still under construction and 17 homes.
A news conference is set for 11 a.m. Firefighters are expected to issue and update then. FOX 4 will be live streaming from the news conference.
Overnight, firefighters continued to douse hot spots with water.
At one point, a dozen fire departments from the metro all came together to help put out these fires.
They are putting water not only on these apartments, but also putting out any flare ups from the 17 homes also destroyed by fire.
The fire started around 3:30 p.m. Monday as construction workers worked on this apartment complex. The four-story apartment complex where the fire started is part of the CityPlace development.
CityPlace is described as a "90-acre mixed use development located in the Kansas City suburb of Overland Park, Kansas in Johnson County. … CityPlace features four office buildings totaling 600,250 square feet on 26 acres, 1,382 multi-family units on 39 acres, 39,860 square feet of retail space on 6 acres and 140 senior living units."
On its website, CityPlace describes itself as:
"….a vibrant mixed-use community that provides residents the opportunity to live, work and play in one energetic and connected neighborhood. CityPlace features commercial office buildings, residences, retail shops and landscaped trails for those who enjoy an active lifestyle."
All construction workers were all able to get out safely as firefighters rushed to contain the fire.
But a strong wind and dry conditions caused smoldering debris to rain down on a nearby neighborhood.
Seventeen houses also caught fire, and firefighters struggled to get these fires out quickly.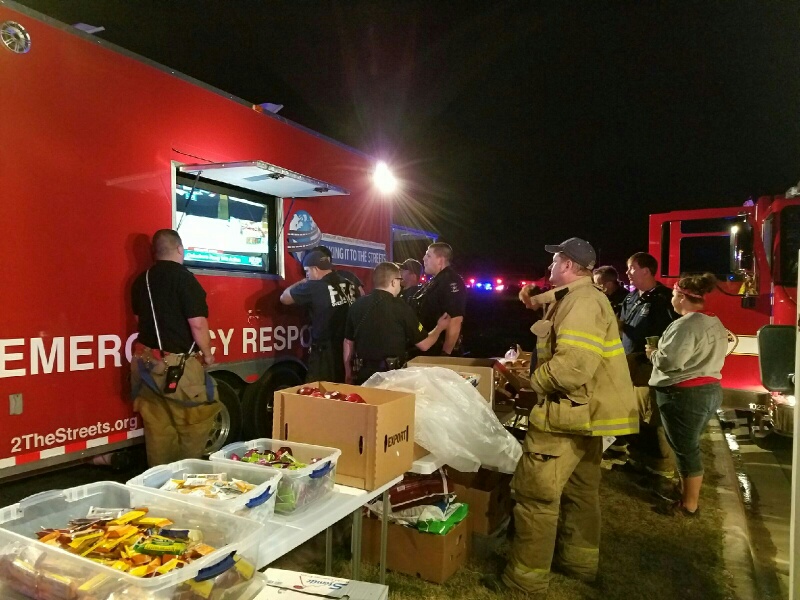 At one point, there were more than 50 fire trucks at the scene, everyone working to put out the flames.
Three firefighters ended up suffering minor injuries, but no one else was hurt.
Some at the scene said they heard an explosion before seeing the fire, but Overland Park officials say it's still too early to determine exactly what caused it.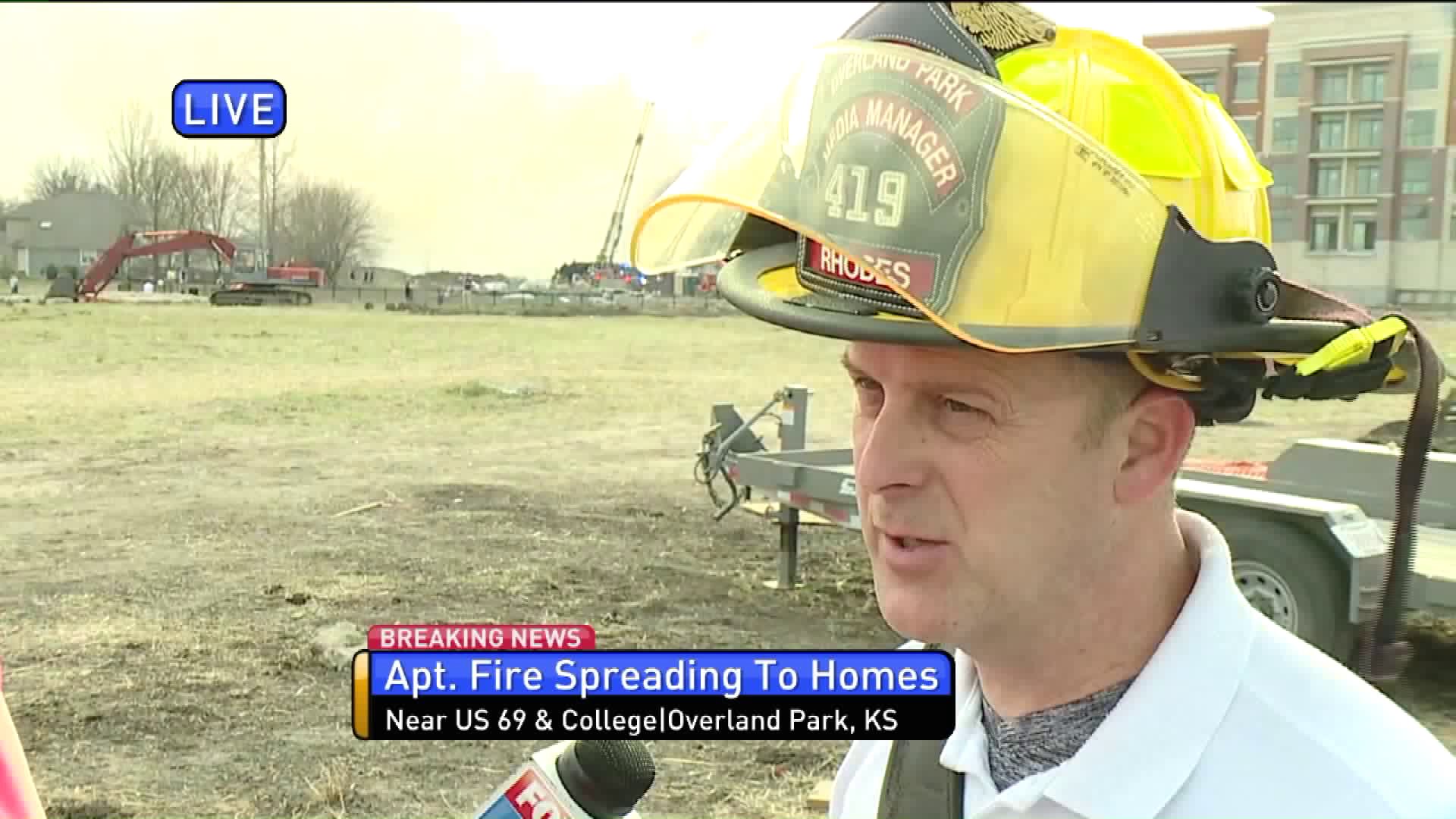 Jason Rhodes with the Overland Park Fire Department said this is the biggest fire anyone in the Overland Park fire department has ever experienced, and investigating it will take a tremendous amount of manpower as each fire needs to be investigated separately.
That's 19 total fires – two apartment complexes under construction  and 17 homes – so it could take days to find out exactly how all this started.
"There were all kinds of reports yesterday of gas odors and explosions and that is not uncommon when you get a fire, especially a fire of this magnitude, and much of that is likely the result of the fire, not necessarily the cause of the fire," Rhodes said.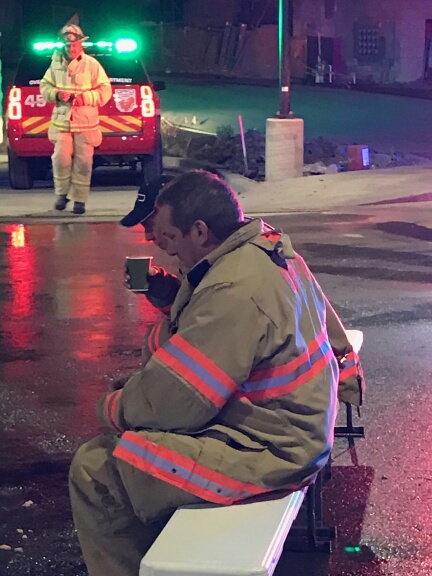 Streets in the neighborhood affected by the fire are expected to remained closed until investigators have time to look through the neighborhood. It is not clear when people who live in the affected homes will be allowed back into their neighborhood.
Law enforcement has been patrolling the area throughout the night to ensure things are safe.
Block Real Estate made arrangement for families without a place to stay. Also, Christ Lutheran Church helped others arrange hotel room.
Long before the smoke cleared, neighbors went into action helping each other. They were knocking on doors, pulling out their water hoses and rescuing pets.
Phil McPherson was working at home as he watched  his roof catch fire. He believes his house is a total loss, but he is thankful he and his two cats made it out safely.
"I just thought the fire would be contained in the apartment complex, and I ran across the street and told a couple of neighbors, 'hey the grass is on fire, it's moving toward your house.' I thought that's all we had to worry about."
Bobby Chavez told FOX 4 he watched a house burn very close to his.
"I'm in shock right now, total shock," Chavez said. "How it all spread out real, took off in a minute."
A look a the damage at 115th and Neiman in Overland Park.

A look a the damage at 115th and Neiman in Overland Park.

A look a the damage at 115th and Neiman in Overland Park.

A look a the damage at 115th and Neiman in Overland Park.

A look at the damage at 115th Terrace and Blue Jacket in Overland Park.

A look at the damage at 115th Terrace and Blue Jacket in Overland Park.

Firefighters worked around the clock to keep the massive fire that destroyed two apartment complexes and multiple homes under control.

Firefighters continue to battle hot spots Tuesday morning.

As relief crews showed up, some firefighters were able to take a moment to refuel with food brought to the scene.

Food was brought to the scene to make sure firefighters were fueled to continue fighting this massive fire.

Overland Park estimates Monday's fire caused more than $20-million of damage.

Amy Wickley cradles her cat, after firefighters recovered it from their home.

A neighbor with an anxious pet. She says she was told electricity may not be restored until late Monday evening.

This resident also helps save some pets inside a burning home.

Jason Rhodes with the Overland Park Fire Department

Todd spoke toFOX 4's Marcus Officer about how the neighborhood responded.

The fire spread to homes in the surrounding area, some as far as a half-mile away.

Overland Park fire Courtesy Stephanie Howard
Since 4 p.m. Monday, 30 minutes after the fire was reported "Taking it to the Streets" was on-scene. They've handed out 1,200 bottles of water, 900 bottles of Gatorade, hundreds of cups of coffee, meals along with protein bars, granola bars, chips and snacks. They've also provided on-site bathrooms for first responders.
FOX 4 has a crew on the scene. Look for reports on FOX 4 newscasts.
Large fire a block from the office in Overland Park. #kansascity pic.twitter.com/fmt2JHbK4E

— Dustin Dahlberg (@lil_dollar) March 20, 2017
MASSIVE fire right now at CityPlace in Overland Park. Wow. Wind is strong today. pic.twitter.com/RN6ohfVBKo

— Clifton Alexander (@clifbo) March 20, 2017
There's a large fire burning right now at City Place near College and Switzer. Avoid the area if you can. More info to come from @OPFDMedia pic.twitter.com/no5qMhSEKo

— Overland Park, KS (@opcares) March 20, 2017