This is an archived article and the information in the article may be outdated. Please look at the time stamp on the story to see when it was last updated.
MISSION HILLS, Kan. — A fire forced a Mission Hills homeowner from her house Tuesday, and she came close to getting arrested because she kept trying to run back into the house for her World Series tickets!
Christine Maurer says she had just come home from aerobics about 10:00 Tuesday morning when she smelled smoke in her house and called the fire department.
"I ran in and got my purse and they told me I couldn't come back in and I remembered about the tickets," said Maurer.
Fire Chief Tony Lopez says he was tapped to control Maurer.
"She was running in and out and my battalion chief asked me, can you do something with her?" Maurer recalls. "And they said if you go back in there, we are going to call the police. So I said, well, ok, go find, go get my tickets because my kids have just driven in from South Dakota to go to the game."
"And then I understood why she needed to get in there so badly," says Chief Lopez.
Chief Lopez says people usually ask them to save their pets, photo albums, and other valuable personal belongings. This time, Chief Lopez asked one of his firefighters to go in and save Maurer's World Series tickets, with Maurer directing them.
"I told the firemen where to retrieve my hidden tickets and he came over and retrieved them. Once I had them in my hand, didn't let go of them."
That was not the end of this story. Not only was it a quest to save World Series tickets from a house fire, this story has an ironic twist including a celebrity. Something that shocked everyone, including Chief Lopez.
"Right then is when George Brett and I believe it was his brother, looked just like him, walked up and it looked like he was out exercising, walking the dog," Lopez said.
"I went 'Oh my gosh! George, I've just gotten my tickets, and he said are they better than mine?'" said Maurer.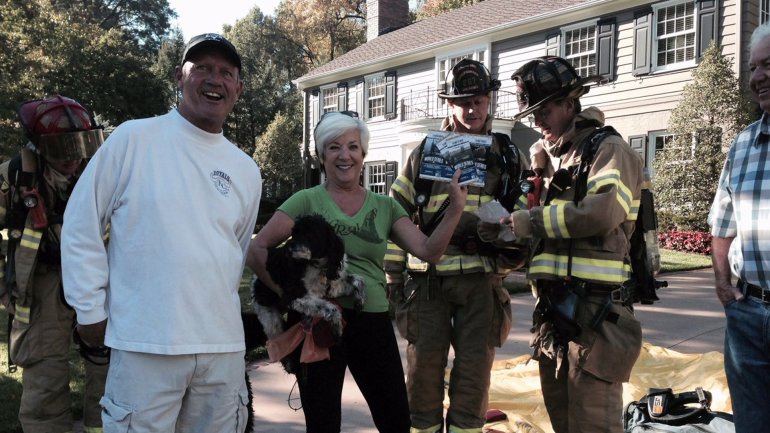 George Brett was kind enough to take pictures with Maurer and the firefighters who saved her World Series tickets.
Both Maurer and Chief Lopez say it is a sign that the Royals are destined to take the crown.
"How ironic could that be? One that we save the tickets and two that George Brett shows up, you know, he's the last guy that was in the World Series in 85. Mr. Kansas City himself, you know?"
There is another lucky turn to this story. The cause of the fire was determined to be an overheated can light and while there was lots of smoke, fire damage was minimal.