This is an archived article and the information in the article may be outdated. Please look at the time stamp on the story to see when it was last updated.
OLATHE, Kan. — An Olathe family of two may have lost their home to a fire, but they are grateful that thanks to the work of firefighters, they didn't lose their dog.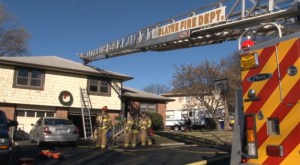 Fire crews were called to a home on W. Ashbury Street on Sunday around 4 p.m. after a neighbor heard smoke alarms going off inside the home. Firefighters quickly extinguished a fire in an upstairs bedroom of the duplex-style home. The residents were not home at the time.
Their 6-year-old border collie mix, Finley, however, was home and in bad shape when firefighters found her. They found Finley unresponsive in the living room and removed her from the home. They immediately gave her oxygen and stimulated her body.
After a few minutes of rescue efforts, Finley regained consciousness. The family took her to a local veterinarian for a check-up.
Unfortunately, two cats died in the home.
Investigators are unsure of the cause of the fire at this time. Damage to the home was significant and the family is currently displaced.