This is an archived article and the information in the article may be outdated. Please look at the time stamp on the story to see when it was last updated.
RIVERSIDE, Mo. — Flags, barbecue and fireworks.  They're pretty much the essentials to any Fourth of July celebration, but last year, one of those supplies went missing at many celebrations due to the drought.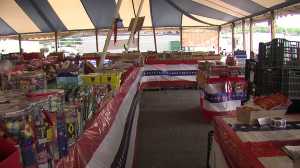 "Even in the drought, even the owners of fireworks companies are extremely worried that we're selling a product that could start a state-wide emergency," said Kurt Eckard.
Eckard of Dishonest Don's in Riverside, Mo., says last year was one of the hardest years he's seen in 32 years of selling fireworks.
"Very few fireworks companies actually made it," he said.
Dishonest Don's made it, and they hope this year with more rain so far, they'll make up for it.
"People are ready to go out and actually have fun and enjoy the Fourth of July and our Independence Day," Eckard said.
Fire officials warn more rain doesn't mean automatic safety.
"It's not quite as dry as last year, so everybody gets a false sense of security, said Eddie Saffell, the Assistant Fire Chief for Blue Springs.
"It's still dry and on a day like today it doesn't take long to dry out completely," Saffell said.
Saffell knows all too well how quickly fireworks can turn dangerous.  Last summer an apartment complex went up in flames.  The cause was believed to be fireworks.
"After some investigation and some interviews, determined that was fireworks-related as well," Saffell said.
He said it did about $1.5 million in damage.  Saffell said one of the biggest problems people need to be aware of are "sky lanterns."  He says those are basically open flames allowed to float and land anywhere.  Saffell said Blue Springs banned sky lanterns, but not every city in the metro has.