This is an archived article and the information in the article may be outdated. Please look at the time stamp on the story to see when it was last updated.
KANSAS CITY, Mo. — One minute trucker Darin Tidd was cruising down northbound Interstate 35 for what started as a routine hay-carrying journey. But in a flash, Tidd's big rig turned into a big ball of fire and thick smoke.
"Well, I first noticed the truck was pulling, and then a guy went by and was waving at me," he said. "And I pulled off to the side, and I saw quite a load of my hay was on fire."
At the height of afternoon rush hour, his load of 60 hay bales suddenly caught on fire. The startled semi driver jumped out of his burning wheels just in time.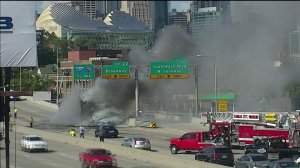 "I wish I had a fire extinguisher, but really an extinguisher wasn't going to put that out. Flames were everywhere. The fire was already too far gone," Tidd said.
The semi fire caugsed a huge traffic nightmare for scores of drivers. Massive clouds of heavy smoke could be seen for miles.
Dozens of stunned passers-by pulled out their cell phones and starting snapping pictures and recording the wild, freak accident.
"Yeah, I was just leaving work, heard a loud bang and then saw this wall of fire coming out of the back of that semi's trailer," one man said.
As scores of firefighters poured water on the burning semi, embers and chunks of flaming hay fell from the interstate and damaged at least two cars parked under the overpass.
"I actually fell running to see my car that was on fire," Chrissy Miller of Excelsior Springs said.
Miller was inside a nearby tattoo shop when she and Ashley Emerson, the shop's owner, both learned their vehicles took quite a beating during the bizarre, afternoon crash.
"I just started crying because my car's on fire. It's my car. I just got that in November," Miller said.
"There was a lot of shock and a lot of where do I go from here? This was definitely a new experience. It's gonna be an adventure because I do a lot of living in my car. We've had a special relationship," Emerson said.
After six hours, northbound I-35 at West Pennway finally reopened to drivers, but the charred semi hadn't been hauled away just yet. Firefighters say just after 7 p.m. the burnt hay inside the torched trailer rekindled and forced firefighters to pour even more water on the smoldering semi on the off-ramp.
By 10 p.m. Tuesday, workers hooked the destroyed cab and trailer to two tow trucks, hauled them away and a short time after that police re-opened West Pennway near Pennsylvania.
Tidd will now be busy contacting his insurance company.
"I got liability for the truck and load of hay and the trailer of course. I think the trailer is salvageable, but you know the truck is totaled," Tidd said.
Firefighters still haven't figured out what caused all that hay to catch on fire in the first place.