This is an archived article and the information in the article may be outdated. Please look at the time stamp on the story to see when it was last updated.
KANSAS CITY, Mo. — Joshua Ryne Goldberg, 20, from Orange Park, Florida, is in custody, accused of plotting to place a bomb at a weekend event in Kansas City that commemorates the September 11, 2001 attacks.
Investigators accuse him of targeting the Kansas City 9-11 Memorial Stair Climb, which is scheduled for Sunday morning, Sept. 13.  The Memorial Stair Climb in KC, allows 343 climbers to participate. Each participant must be employed by a fire department, as a volunteer, paid career, or retired firefighter to participate.​  The 343 firefighters climb 37 flights of stairs to the top of the Town Pavilion high-rise in downtown Kansas City  in remembrance of the 343 firefighters killed on 9-11-2001. During the climb, participants will climb up the stairs three times to simulate the 110 stories firefighters ran to the top of the World Trade Center's towers before they collapsed. For five years firefighters have been partaking in the event.
According to the criminal complaint, Goldberg was in contact, through on-line communications, with an individual who law enforcement knew to be a Confidential Human Source (CHS). Between the months of July and September 2015, Goldberg is accused of exchanging messages with the CHS through a direct message app.
Over time, the document says, the informant worked to gain the trust of Goldberg, who investigators say was using the profile name "Aus Witness" on the app. AusWitness asked where the informant was located, to which the informant replied 'the Midwest.'
Authorities say the informant told Aus Witness/Goldberg that he didn't know how to make a bomb, so authorities say Goldberg distributed information to the CHS on how to manufacture a bomb. He instructed the CHS to make a pressure cooker bomb and fill it with nails, metal, and other items dipped in rat poison. Goldberg instructed the CHS to place the bomb at an upcoming memorial in Kansas City, Missouri that was commemorating the September 11, 2001 attacks.
Click here for several key pages from the criminal complaint filed in U.S. District Court for the Middle District of Florida. The document describes alleged conversations between the informant and the suspect, such as the one below which allegedly occurred on August 20, 2015:
7:03 AusWitness: "Have you decided what kind of attack to carry out on 9/11, akhi? I was thinking a bombing."
7:06 AusWitness: "We could make pipe bombs and detonate them at a large public event.
7:06 CHS: "Yes I'm leaning towards that too. I've been getting excited about this. I've been having trouble with the planners in the dawlah who want me to just do a gun attack. But that doesn't seem big enough to bring true glory to Allah. Look at Chattanoogo the kuff have already forgotten."
7:07 AusWitness: "Exactly brother. It needs to be big. Do you live in NYC? I'm in Perth. There are lots of places to target here."
7:07 CHS: "Do you know the directions you gave me work? I've never made a bomb before lol sorry"
7:08 AusWitness: "They work, akhi. But a pressure cooker bomb might be even better. Let me ask one of my brothers in the dawlah for instructions."
7:10 CHS: "Ok, ahki"
7:13 AusWitness: "What city are you in akhi? We need to find the best place to place the explosive."
7:13 CHS: "I'm in the Midwest the closest place is Kansas City if you're familiar. But I can travel I'm just a student."
7:14 AusWitness: "Alright so will you be able to drive to Kansas City to carry out the attack?"
7:14 CHS: "Yes Easily"
Goldberg is charged with distributing information relating to explosives, destructive devices, and weapons of mass destruction. If convicted, he faces a maximum penalty of 20 years in federal prison.
Below are pictures of the 9-11 Memorial Stair Climb at the Town Pavilion in 2013. The event will proceed as planned on Sunday, Sept. 13.  Firefighters from eight states are coming in for the memorial event. FOX 4's Dave DMarko reported that the event was booked within ten minutes of registration.
Dave Bova, who coordinates the event, says he only found out about the alleged plot on Thursday. He says they already work with Kansas City security, but this year they will also be coordinating with the FBI as the event goes on as planned on Sunday.
"We made a commitment as firefighters to never forget 9/11 and we are going to make sure that we hold that commitment and that`s part of it, so we are going to make sure that we carry on," Bova said.
Bova also added that he doesn't think the threat will stop a lot of people from going to the event.
"You just can't let little things like that scare you," Bova says.  "You just gotta live on with your life and keep moving forward."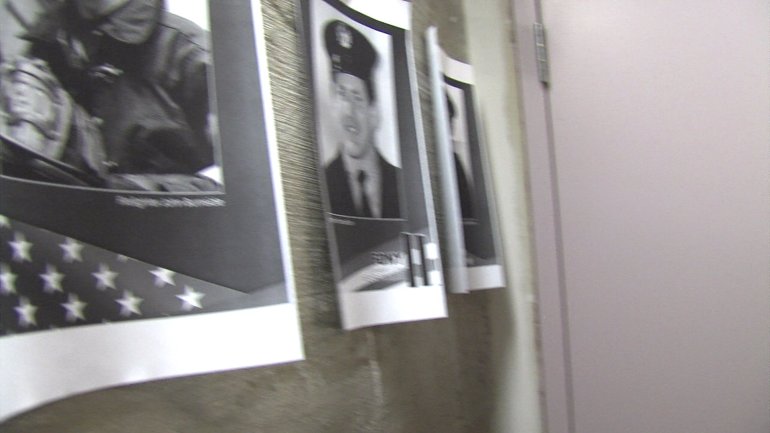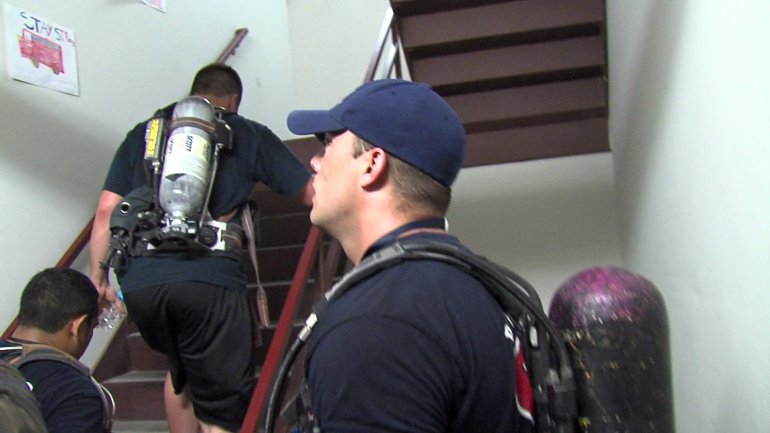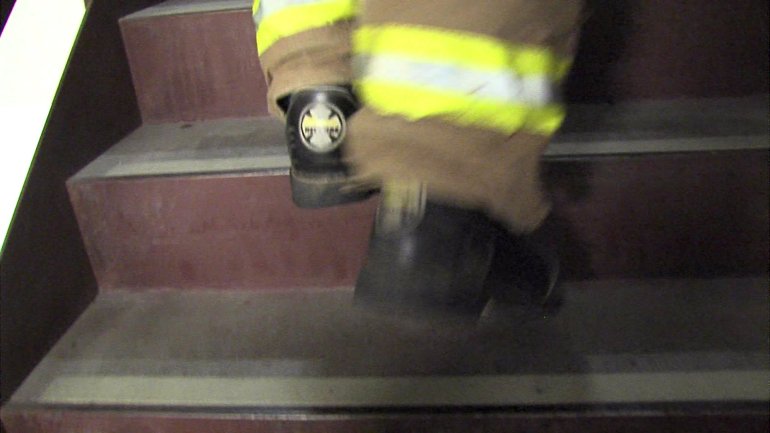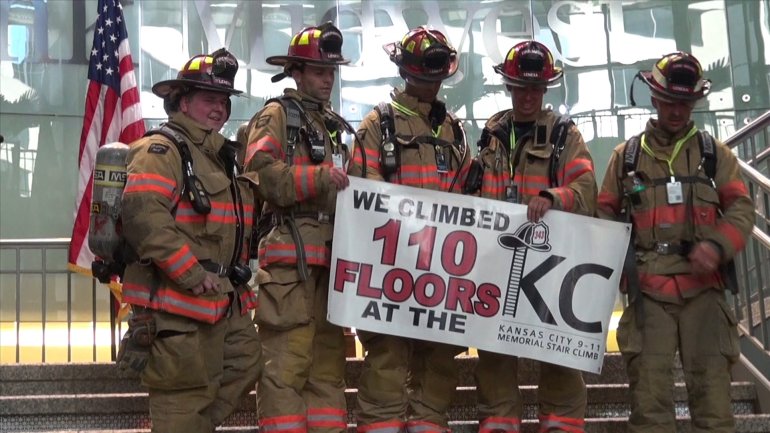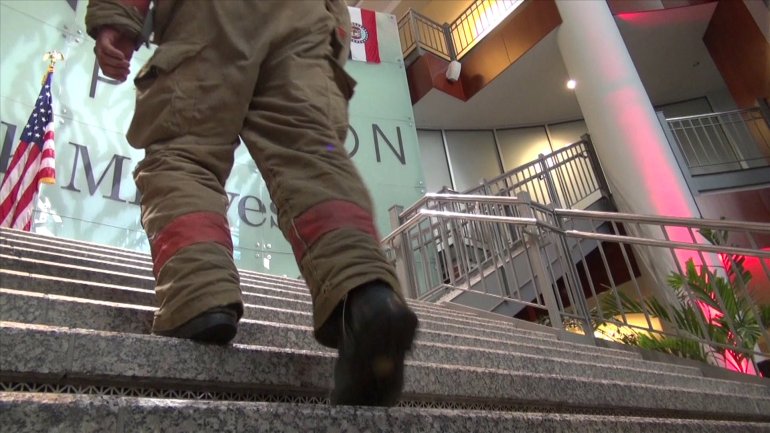 This case is being investigated by the FBI's Joint Terrorism Task Force (JTTF) and the Clay County Sheriff's Office. Members of the Jacksonville JTTF include the Federal Bureau of Investigation, the Naval Criminal Investigative Service, U.S. Immigration and Customs Enforcement's Homeland Security Investigations, U.S. Customs and Border Protection, U.S. Border Patrol, the Florida Department of Law Enforcement, the Florida Highway Patrol, the St. Johns County Sheriff's Office, and the Jacksonville Sheriff's Office.  It is being prosecuted by Assistant U.S. Attorney Kevin C. Frein of the Middle District of Florida, with assistance provided by Trial Attorney Mara Kohn of the National Security Division's Counterterrorism Section.​