This is an archived article and the information in the article may be outdated. Please look at the time stamp on the story to see when it was last updated.
KANSAS CITY, Mo. — Celebrity chef Guy Fieri is set to open a taco restaurant in the Power & Light District next month.
He announced the news on a Facebook page for the restaurant, which will be called Guy Fieri's Dive and Taco Joint. The grand opening is set for Feb. 21.
In a news release from Cordish Company, which manages KC Power & Light, Fieri said he's dreamed of opening a joint in Kansas City since he first started competing in the American Royal 15 years ago.
"Over the years, while shooting 'Diners, Drive-Ins and Dives' in the area, I've met some great folks who love a good time and know real deal food when they find it. So now I've finally got a place to invite them all over to party and get their taco on!" Fieri said in the release.
The restaurant is set to open in the space previously occupied by Cleaver and Cork, which closed in October.
Cordish said the new restaurant will have an "American roadhouse look" that's influenced by the "legendary restaurants, bars and all-around dives that he's visited around the country."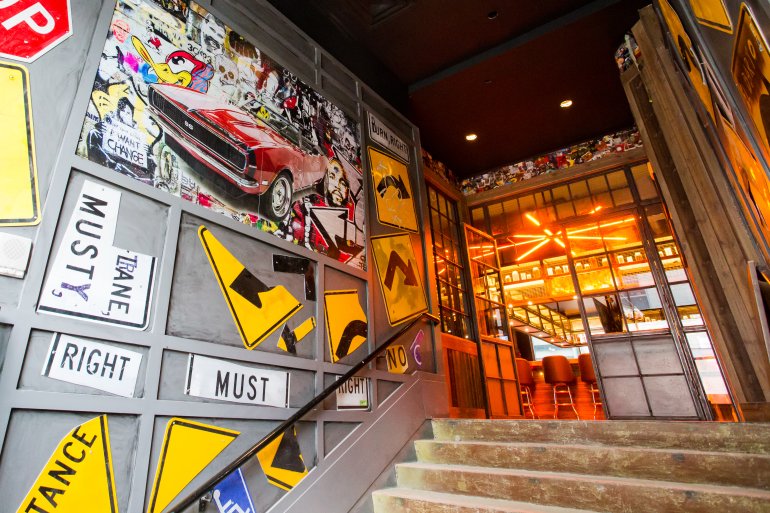 Fieri's restaurant will feature his signature tacos like Al Pastor tacos (Boulevard ginger grapefruit-glazed pork tacos with chipotle and sweet onion, grilled pineapple-serrano salsa, cilantro, cotija and avocado-tomatillo salsa) and Achiote Chicken tacos (shredded, slow-braised achiote-marinated chicken tacos with borracho sauce, pico de gallo, cabbage, cotija and salsa rojo).
Some of the celebrity chef's signature drinks will also be available — like the Caliente margarita (tequila, cointreau, lime juice, jalapeno and cilantro) and the Roasted Hawaiian margarita (tequila with Triple Sec, lime and lemon juice, roasted pineapple puree and garnished with grilled pineapple) or shots like the Kansas Prairie Fire (tequila with hot sauce).
"Let me just put it this way: If you like to party, and you like tacos, this is gonna be your kinda dive!" Fieri said in an October release when Cordish first announced the new restaurant.
The new restaurant is currently hiring for a variety of positions, Cordish said. To apply, visit the KC Live! hiring center on Main Street or visit this site.
Fieri owns several restaurants, including several on the east coast and on Carnival cruise ships. This will be his first restaurant location in the Midwest.
"The combination of one of the nation's premier chefs and personalities, who has a long history with Kansas City; a brand new concept for Kansas City, the synergy of Guy with the energy of KC Live!, has us all extremely excited for 2019," Nick Benjamin, executive director of the Power & Light District said in October. "Downtown has been on a great run, and bringing Guy Fieri's energy and talent into the mix will only grow our momentum."