This is an archived article and the information in the article may be outdated. Please look at the time stamp on the story to see when it was last updated.
KANSAS CITY, Mo. — A woman who allegedly abused her small dog, a Tibetan Spaniel known widely as Roadrunner, entered a guilty plea Thursday to felony and misdemeanor animal abuse and abandonment charges.
Kimberly Anderson, 38, entered the plea to animal abuse, a D felony, and animal abandonment, a misdemeanor. She agreed to enter Jackson County Mental Health Court, have no contact or possession of animals in the future, make $200 restitution to the Pet Project and serve 120 days of shock time.
Her sentence was suspended and she will remain on probation for three years. Anderson entered an Alford plea, meaning she believed there was enough evidence to convict her at trial.
The judge cautioned Anderson that if she were to fail to follow any of her conditions, she could face up to 4 years in prison.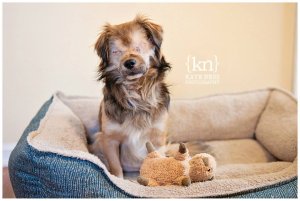 The small dog known as Roadrunner was allegedly abused by Anderson in Nov. 2014. A witness told police that Anderson wrapped a leash around Roadrunner's neck to pull him outside, and then picked Roadrunner up and slammed the dog on concrete before choking and kicking him. The witness said Anderson then went back to her apartment and left the dog outside.
A separate witness said he saw Anderson throw Roadrunner off of a third-floor balcony and then went downstairs and picked the dog up by the collar. He said he saw Anderson take the dog around the building and didn't see either of them again.
Anderson was arrested that day and denied abusing Roadrunner during her interview with police. She said her dog ran out of her apartment before she could catch him and said the dog was hit by a car.
Veterinarians had to remove both of Roadrunner's eyes. Today Roadrunner is cared for by new owners.
Anderson had been scheduled to face trial next week in Jackson County Circuit Court.
"We're so pleased today that a felony animal abuse conviction was obtained and that his dog's family and the shelter's staff and volunteers can now have closure in this case," said Tori Fugate, Director of Marketing & Development with KC Pet Project. "This is one of the first felony animal abuse convictions in Jackson County and we hope that this will set the bar for future cases to be heard by the courts for similar circumstances of abuse or neglect. Roadrunner's story impacted many people in our community and we want to say thank you to everyone who shared his story and donated to help with his medical care. Roadrunner is living a wonderful life with his family and it's because of the community's support that he is now healthy and thriving."