This is an archived article and the information in the article may be outdated. Please look at the time stamp on the story to see when it was last updated.
OVERLAND PARK, Kan. — An Overland Park man says Daqon Sipple`s life didn`t have to end up with him answering to charges that include assault on a law enforcement officer. At one point, he made it out of his environment, with all its temptations and challenges and had a real chance to do great things in the world, according to his former foster father.
Police say Sipple and Jamaal Lewis were driving around shooting off guns in Juniper Gardens in KCK before Lewis shot and killed Captain Dave Melton.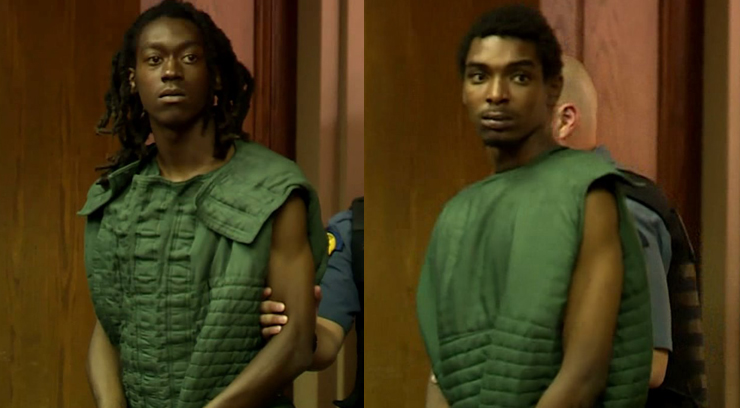 Mark Bolton says it`s heartbreaking that the boy he knew with so much potential could spend much of his future in jail.
Bolton says he hates seeing Sipple this way. He met him six years ago when he volunteered as a mentor in the Wyandotte County juvenile justice administration.
Sipple, Bolton says, was arrested several times for fighting, petty crimes and skipping school.
Bolton remembers, the Kansas City, Kansas police saw something special in Sipple, and as they do with other at-risk youth, and suggested Bolton take him in and foster the child.
"They felt that he could be changed. The behavior from his family, in his household. That if he made a change, adjustment in his environment then he would do well, and that is what he seemed to do," Bolton said.
Bolton says he saw two sides to Sipple: A scared, soft-hearted kid who tried to act tough with his friends on the streets.
With neither parent in his life, Sipple was being raised by his grandmother, and Bolton was the only father Sipple had known.
"I mean, I had rough times dealing with him, but once he had the family and loving household, then he became a whole different person. From a person who would steal and lie, to a person who the neighborhood would think is a nice, polite child," Bolton described.
That all ended, Bolton says, eight months later when Sipple`s grandmother asked for him to come home.
Bolton says Sipple was doing well for a while, but Bolton worried in that environment the influence of the streets was stronger than Bolton`s, and he began to see social media posts of Sipple flashing gang signs, holding guns and making comments about violence.
Bolton says he continued to work with the KCK police and has fostered other young men since Sipple, and most have not returned to a life of crime.
Bolton says seeing Sipple facing an uncertain future is a great disappointment in his life.
"I think Daqon knows now that he took those circumstances, and this is his life, and he will have to man up to it," Bolton said.
Bolton plans to be at Sipple`s court appearances, but says as much as he is disappointed in Sipple, his sorrow and heart lie with the family of Captain Melton.