This is an archived article and the information in the article may be outdated. Please look at the time stamp on the story to see when it was last updated.
LIBERTY, Mo. — A judge sentenced a former Kearney teacher to nine years in the Missouri Department of Corrections after he admitted to having sex with a 14-year-old student. Rhett Rigby, 28, received consecutive sentences of five years for second degree statutory rape, and four years for sexual contact with a student by a teacher.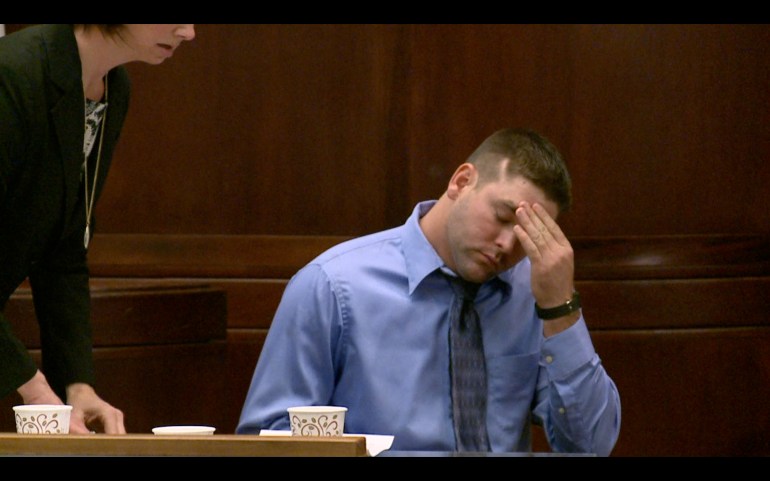 Rigby was an Algebra teacher at Kearney Junior High School and admitted to having sex with the teenage girl inside a classroom on two occasions. They also had sex twice at the victim's home according to court documents. Last November Rigby pleaded guilty to the charges he was sentenced for on Friday.
The crimes occurred between the fall of 2012 and May of 2013. When school administrators learned of the relationship between Rigby and the student, he initially denied it, but she told investigators the two had exchanged nude photos through text messages. Court documents also said that Rigby made her take a pregnancy test when she feared she was pregnant. The results came back negative.
A huge crowd packed the Clay County courtroom to see Rigby's sentencing. Dozens of relatives and friends of the victim were on one side of the courtroom, and on the other side there were more than 50 friends and family members of Rigby.
The victim`s mother told the court the entire experience "has been a nightmare from hell for her and her daughter."
Rigby`s mother and friends also spoke, who wanted him to get probation. Rigby himself said, "I made a lot bad decisions. I`ve misused a young student`s trust and I`m truly sorry."
While others declined comment to FOX 4, Rigby's lawyers said they put their best foot forward, and will have to live by the ruling.
Rigby originally faced four charges of statutory rape, four charges of statutory sodomy, one count of sexual contact with a student and one count of tampering with a witness. His case was amended, and he was only sentenced for the two charges that he pleaded guilty to.
Previous Coverage: