This is an archived article and the information in the article may be outdated. Please look at the time stamp on the story to see when it was last updated.
OLATHE, Kan. – An Olathe man is in a Missouri jail, now charged in Johnson County with premeditated murder, and being held on a $2 million bond for allegedly shooting three men and killing one of them Wednesday at Austins Bar and Grill in Olathe.
Srinivas Kuchibotla died after being rushed to a hospital, Alok Madasani was wounded and is recovering. Both of the men are identified as regulars of the popular sports bar, and both worked at nearby Garmin International.
The third victim, Ian Grillot, is also recovering from a gunshot wound after witnesses say he intervened.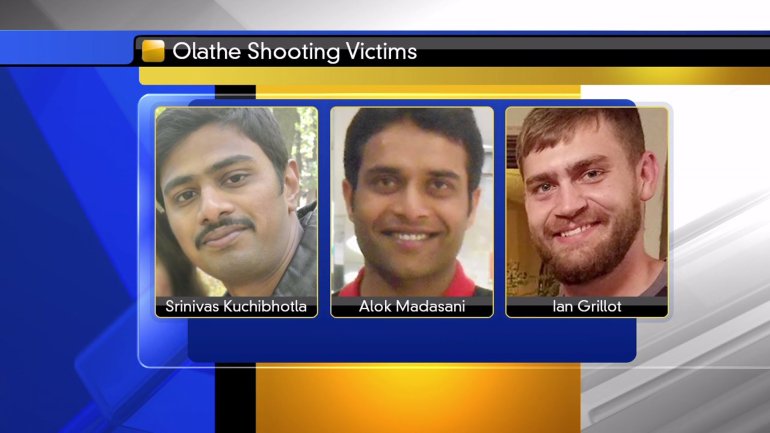 Fifty-one-year-old Adam Purinton sits in custody in Clinton, Mo., where police arrested him five hours after the shooting.
In addition the local criminal charges, federal agents are investigating if the victims' civil rights were violated, but law enforcement stopped short of saying this tragedy is the result of a hate crime at a news conference on Thursday.
FOX 4's Shannon O'Brien talked with a man who was at Austins and ran towards danger to protect his family, and helped a dying man in his last moments.
"I had no idea what I was going to do if I encountered this person except I was going to try and stop him," Mark Hinojosa said.
Hinojosa described the shrill terror of hearing gunshots as he and his family were eating at the sports bar.
"I started hearing this 'pop, pop, pop.' The sound was so loud, even in the back where I was sitting, it sounded like it was right there," Hinojosa described.
His first instinct was to protect his daughter — who is disabled. Hinojosa said he knew she could not get away, so he went after the shooter before the shooter could go after her.
"To see the waves of people rushing toward the back and chairs all over the place. I don't know something just kicked in," the dad said.
But as Hinojosa ran towards where he thought the gunfire was, police say the shooting suspect had fled. As Hinojosa turned back to find his family, he says he saw Kuchibotla on the ground in the porch area of Austins.
"And then we found the gunshot wound to the chest and there wasn't an exit wound, so we knew we had some problems," Hinojosa said.
He was a medic in the military, and said he and two other men performed CPR on the struggling man, held the wound to control the bleeding and turned the victim to try and keep his lungs clear. They talked to him in encouraging tones, trying to keep him alive.
"And I prayed over him that he would have God's peace. In that time he was with us, he knew that people cared about him," Hinojosa said.
Kuchibotla died hours later at a hospital. It's emotional for Hinojosa, and while he did not know Kuchibotla, in those moments he says he saw what kind of a person he was.
"If I was going to describe him, he looks like a really nice guy. I feel good that we were there for him, I feel good that he knew we were there for him because I believe he did," Hinojosa said.
Purinton has been charged with premeditated first degree murder and two counts of premeditated attempted murder. If he's eventually found guilty, he could face the death penalty.