This is an archived article and the information in the article may be outdated. Please look at the time stamp on the story to see when it was last updated.
OLATHE, Kan. — Three years. That's how long a former teacher and coach will be on probation for having sex with a 16-year-old girl.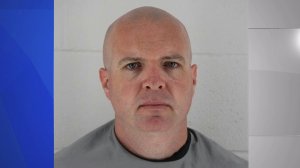 Michael Jasiczek learned his fate Monday afternoon.
In court, Jasiczek stood next to his lawyer and apologized for his actions, saying he's guilty and has sinned. He then listened to the judge read his sentence.
Jasiczek will be on probation for three years. He'll also spend the next 10 days in jail as part of what's called "shock time" and be required to register as a sex offender for the next 25 years.
Jasiczek pleaded guilty in January to charges of unlawful sexual relations. He was a teacher and a coach at Olathe South High School when prosecutors said he engaged in sexual activity with a 16-year-old girl in his classroom.
The reported incidents took place between Jan. 1 and May 3 of last year. Jasiczek was as put on administrative leave in early May and resigned a short time after that.
The principal sent some parents a letter saying another teacher was taking over for him. Sixteen is old enough to consent to sex in Kansas, but it was unlawful in this case because Jasiczek was a teacher, and he was in a position of authority over the student.