This is an archived article and the information in the article may be outdated. Please look at the time stamp on the story to see when it was last updated.
LEAVENWORTH, Kan. — A former physician's assistant found guilty of sexually assaulting patients at the Leavenworth Veterans Administration hospital  was sentenced Friday to 15 years in prison.
In August, Mark Wisner, 66,  was found guilty on one count of criminal sodomy, one count of aggravated sexual battery, and three counts of sexual battery.
Court documents say Wisner admitted to V.A. special agents investigating sexual abuse claims that he performed genital exams on men that were 'excessive and unnecessary.' Documents also state that Wisner said he 'lost control' and it became an ingrained habit.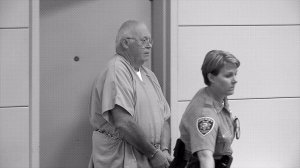 During his trial, victims testified that Wisner groped their genitals, forced them to get prostate and genital exams they didn`t need, and had even made sexual advances. Some said Wisner would withhold medication if they didn`t go through with the exams.
The judge sentenced Wisner to 15 years and 5 months in prison (187 months) for the combined charges. Wisner will also have to register as a sex offender. Fox 4's Kera Mashek was in the courtroom and reports Wisner could be eligible for parole after three years.
Fox 4 has done many stories on the accusations against Mark Wisner and on the veterans he targeted.  Watch Fox 4 John Holt's special report with several of the men, who sat together and heard each other's stories.
During Friday's sentencing hearing, victims were allowed to make statements. Statements were also read from other victims, one out-of-state and the other in Puerto Rico, providing aid.
One veteran argued that Wisner could have saved the victims years of heartache by entering guilty pleas much sooner instead of inflicting more pain and heartache.
Another veteran, who did not want to be on camera said that he "respectfully demands the court uphold the law but not offer leniency. Not give Wisner a chance to run away from his choice."
Another veteran says he felt "confusion, anger, numbness, disbelief, complete devastation, every emotion one should never endure." Kyle McIntosh said all this affected his interaction with his family.
Darren Mathis, an Iraq War veteran, went to the podium to give a victim statement but then moved the podium so he could directly face Wisner as he spoke.
'You sit there scared,' Mathis said to Wisner. 'You groomed me from early age. Did you try to refrain yourself from disgraceful actions you performed me 40-50 times?'
Mathis described the impact the assault had on him: 'People worried about me overdosing.'
He said he nearly divorced, his credit was ruined and he lost his house. But, he said to Wisner, 'You didn't break me.'
According to Todd Thompson, Leavenworth County D.A.,  Judge Gunnar Sundby followed the Kansas Sentencing Guidelines when handing down his sentence.  Assistant County Attorney Michael Jones asked all of the five counts to run consecutively as that these were separate and distinct incidents of crime.  The court agreed and sentenced Wisner to 155 months for aggravated criminal sodomy, and 32 months for aggravated sexual battery.   Judge Sundby did rule the three misdemeanor sexual battery charges to run concurrently with this time.  Wisner's total sentence is 187 months.
Be sure to download our apps for alerts on this and other developing stories and follow us on Facebook.  Fox4kc news apps:  iPhone and Android
Fox 4's Kera Mashek will have her complete story on the Wisner sentence on Fox 4 News at 5 & 6.
---
Off camera, Fox heard from victims expressing frustration about the process taking too long for the case to go to trial, with allegations against Wisner dating back to 2009. Some victims say no one believed them at first.
Leavenworth County Attorney Todd Thompson said he hoped the August guilty verdict and sentence to follow would not only comfort the victims involved, but give unknown victims, if any, the confidence to speak out.
"I would hope it would be encouraging for anyone to come forward with any type of wrong that may happen to them and be able to pursue charges and help do that, and I would hope people would do that as soon as something bad happens to them," said Thompson after the guilty verdict.