This is an archived article and the information in the article may be outdated. Please look at the time stamp on the story to see when it was last updated.
TOPEKA, Kan. — A man who once held the title of Wyandotte County District Attorney and who most recently worked as a Kansas Department of Revenue attorney now faces complaints of sexual harassment, racism and bigotry.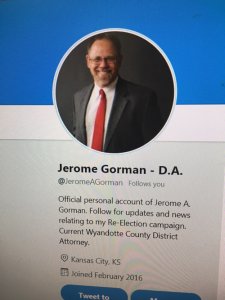 The Topeka Capital Journal first reported the accusations in an in-depth investigation on Jerome Gorman.  Click the link below to read specifics of the accusations.
Kansas tax attorney accused of sexual harassment, bizarre rants
According to the report, Gorman says he's 'unaware of any allegations' against him.
However, on Wednesday, Jan. 10th, the Kansas Dept. of Revenue confirmed Gorman no longer worked for them.
"The investigation into Mr. Gorman's conduct began as soon as the first and only complaint was received by the Department of Administration in mid-December. The investigation was completed on Tuesday and as of the end of the day Tuesday, Mr. Gorman was no longer employed with the Department of Revenue," said Rachel Whitten, director of public relations at Kansas Department of Revenue.
Gorman served 11 years as district attorney in Wyandotte County.  He left the D.A.'s office in January 2017 after he was defeated for re-election. He went to work as director of the revenue department's special investigation office, earning more than $100,000 a year.
The allegations of inappropriate statements by Gorman were investigated and reported to human resources personnel and lawyers in Gov. Sam Brownback's administration by Marc McCune, according to the report.
McCune, who served as special agent in charge at the revenue department, was fired two months after reporting his concerns about Gorman, the Topeka Capital Journal says. Read here what response McCune says he received when he brought Gorman's alleged actions and comments to the attention of two attorneys in the Brownback administration. McCune told the The Topeka Capital Journal that allegations that he was fired due to an anger management problem were baseless. McCune had spent almost four decades in law enforcement, beginning at the Kansas Highway Patrol.
This is a developing story and Fox 4 is seeking further comment. Look for more on Fox 4 newscasts and download the fox4kc app.  Sign up under "alerts" for "push notifications" so you don't miss breaking news: FOX 4 Android app | FOX 4 iPhone app