This is an archived article and the information in the article may be outdated. Please look at the time stamp on the story to see when it was last updated.
LATHROP, Mo. — You can't tell by looking, but there's something different about Lathrop Schools.
Eight years ago, the small community 40 miles north of Kansas City became the first district in the state of Missouri to move to a four-day school week.
"It came about purely from a cost-savings and where would we be able to save some money," said Chris Fine, Lathrop School District superintendent.
Early figures showed Lathrop could save more than $100,000 a year by shaving a day off the school week. Eight years in, that's proved true.
"You add that up over 10 years, you've saved a million dollars," Fine said.
The school days now start 15 minutes earlier and end 45 minutes later.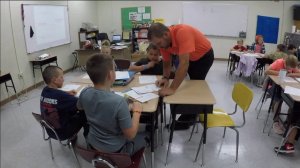 But by cutting out one early dismiss day and adding the extra time, Lathrop students now have 25 more instructional hours than before, and that's brought a couple added bonuses.
"Our ACT scores have really shown some improvement. If there was anything, that's one area we're up. The first four years, up every year, and five out of the last seven, they've been increased," Fine said.
Attendance has also improved for students and staff.
Amy Martin has four kids, three still in Lathrop schools, and said the extra day off has helped make sure they are in class.
"Mondays, we get all our doctor appointments in, orthodontist, so we don't have to miss school ever. That's my favorite thing," Martin said.
The biggest pitfall as schools adjust to a four-day week is often families finding child care for one day a week.
In Lathrop, some families said it's still a challenge. But by and large, it hasn't been an issue.
"There were only 13 weeks when we had five full days of school before we went on this, so there were always times you had to find day care anyway. We had done early-out Wednesdays, so parents had to find someone about every other Wednesday, and so they were already in the mode of doing that," Fine said.
The trend of four-day school weeks is growing. Since 2012, Missouri's gone from a just one district using a four-day schedule to 29 districts this year. In Kansas, 26 districts are on the shorter schedule.
Also this year, a Denver suburb became one of the largest districts in the country to try to four-day week.
"It was a little tough as far as getting up a little earlier and staying a little later at school, but the biggest adjustment was probably what to do on Mondays for them. Now they just love it," Martin said.
Some education experts still argue four-day school weeks can be a bad choice, leaving at-risk students without supervision and fewer meals during the week.
Lathrop acknowledges it's not a good fit for every school, but it's worked well for them and could be beneficial to other schools, too.
The following Missouri districts currently utilize a four-day week:
Community R-6
Miami R-1
Harrisburg R-8
North Callaway Co. R-1
East Lynne 40
Drexel R-4
Stockton R-1
Lathrop R-2
Everton R-3
Albany R-3
Walnut Grove R-5
Jasper Co. R-5
Laclede Co. C-5
Lexington R-5
Miller R-2
Pierce City R-6
Maries Co. R-2
Holliday C-2
Wellsville-Middletown R-1
Montgomery Co. R-2
East Newton Co. R-6
Roscoe C-1
Stet R-15
Orearville R-4
Crane R-3
Bradleyville R-1
Niangua R-5
Warsaw R-9
Plattsburg CCR3
Four-day schools in Kansas include:
Brewster
Cheylin
Greeley Co.
Bluestem
Deerfield
Rolla
Ashland
Fowler
Weskan
LeRoy Elementary
Southern Coffey
Gridley Elementary
Winona
West Elk
Cedar Vale
South Central
Hamilton
Natoma
Central
Healy
Dexter
Haviland Elementary
Syracuse
St. Paul
Chetopa
Life Preparatory Academy