This is an archived article and the information in the article may be outdated. Please look at the time stamp on the story to see when it was last updated.
OVERLAND PARK, Kan. -- A metro couple struggled to get pregnant, but now they say they're blessed beyond belief -- with quadruplets.
"We were pregnant with not only one but four little miracles," mom Kaitlin Hartman said.
After a year of doctors appointments and infertility treatments, Louisburg couple Kaitlin and Josh Hartman found out they were pregnant.
"When we went in for our first ultrasound appointment, at first, they found three," Kaitlin said. "Then we went in for another ultrasound a week later and they're like, 'Well, there was actually one hiding back there.'"
Kaitlin said the doctors were just as surprised as they were.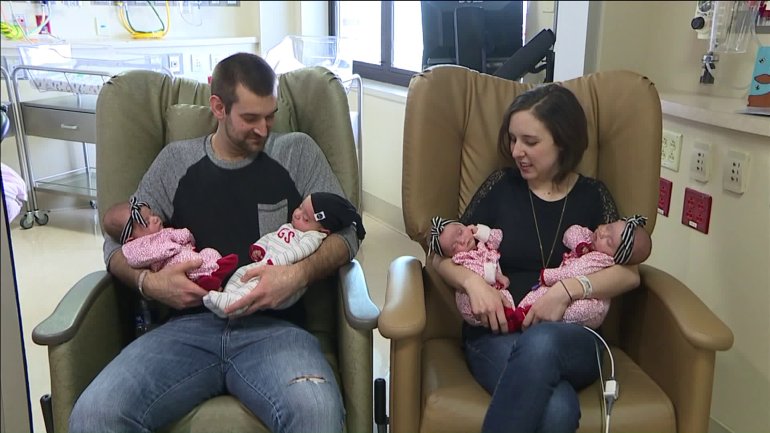 On Nov. 17, she gave birth to three girls and one boy: Teagan, Ainsley, Sadie and Braylon.
"It was like a dream to have a big family," Kaitlin said. "We had talked about having three or four kids or whatever, but we never expected it all at once."
But the dream of having her entire family together had to wait for nearly three months.
The babies each spent time in the neonatal care unit at Overland Park Regional Hospital until they were healthy enough to go home. But little Sadie remains there.
​The Hartmans decided they all needed a family reunion Wednesday.
"This is the first time that they've all been together since they've gone home," Kaitlin said. "It's pretty special to have them all together, especially on Valentine's Day."
Josh said it's been quite a year, and they're learning as they go.
"Exhausted, excited, it's a crazy feeling," Josh said.
He said they couldn't be more thankful to their family, friends, community and doctors.
"We have been so fortunate," he said. "Our family has been so helpful."
The Hartmans said they don't know when Sadie will be able to come home, but they say she's in good hands.
Follow along with the Hartmans on their blog "4ever Blessed" or on Instagram.  A Go Fund Me page has also been established to help the metro couple.