This is an archived article and the information in the article may be outdated. Please look at the time stamp on the story to see when it was last updated.
KANSAS CITY, Kan. -- A fourth person has died as a result of injuries he suffered in a car crash on Sunday, July 9th at 63rd and Rowland Avenue, when a green truck collided into a tree.
Police say the truck was stolen and full of passengers when it was speeding southbound on North 63rd and collided into the tree. Two people in the car were dead when officers arrived at the scene at about 1:00 a.m.
Before police arrived,  the driver of the truck stole an SUV that belonged to a good Samaritan who had stopped to assist those injured in the wreck. Two others in the truck were also critically injured. One has already passed away. The other, Cory Thornburgh, 18, of Shawnee, has now also passed away.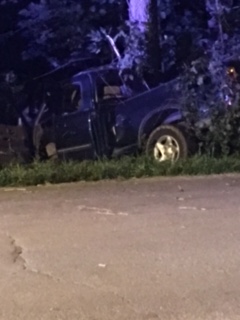 "The truck had gone down into the woods and there was a guy hanging out the window," said one woman, who asked not to be identified, when she drove to the accident on 63rd and Rowland Avenue to offer her help.
She yelled at the driver of the wrecked car who, she said, then opened his eyes and got out. The woman, a mother of three who lives about a block away, said his face was covered in blood and he was holding his side. But she said he seemed less concerned about his injuries and more concerned about her SUV, which she had left running by the side of the road in her hurry to offer aid.
"I said 'please, please, don't take my truck,' and he grabbed my arm," she said. "He told me to get in the truck with him."
But when she refused, he took off.
Kansas City, Kan., police say the accident remains under investigation. In their news release about Thornburgh's death, they did not indicate that they have identified the driver of the truck nor have prosecutors filed charges.