This is an archived article and the information in the article may be outdated. Please look at the time stamp on the story to see when it was last updated.
KANSAS CITY, Mo. — After 17 people were murdered at Marjory Stoneman Douglas High School in Parkland, Florida, cries for gun reform filled TV screens and social media feeds, led mainly by teenagers who survived the massacre.
While many in the nation debate gun laws, there's a hole in the system that FOX4 has now uncovered not just once but twice.
Little attention is focused on the ammunition that makes those guns so deadly. Although federal law states you have to be 18 years old to buy ammunition for rifles or shotguns and 21 for handguns, there's no law that requires stores to verify the buyer's age.
FOX4 exposed that worrisome loophole in 2015 when we showed how easily a 16-year-old could buy powerful rounds of ammunition. At the time, three retailers out of five sold a teen ammunition with no questions asked. In the wake of the recent Parkland shooting, FOX4 wondered if stores would still sell ammunition to a teenager.
So FOX4 again went undercover with a 16-year-old.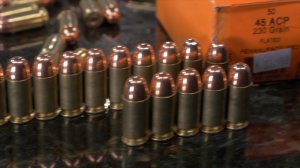 We first headed back to the Walmart in Excelsior Springs that sold ammunition to the teen in 2015. This time, however, the store asked for the teen's I.D. No I.D. meant no sale.
But the teen had no trouble buying ammunition at Great Guns in Liberty. He walked out with a box of .45 automatic ammunition, a box purchased from a store that refused to sell to the teenager in 2015.
During FOX4's investigation, we also went back to Dick`s Sporting Goods, which again asked for I.D. and for the second time refused to sell to a minor.
Major outdoor retailer Cabela's, a store that sold two boxes of ammunition to the teen back in 2015, asked for I.D. this time and refused to sell to the 16-year-old. Cabela's, which now posts signs about age restrictions to buy ammunition, also refused to sell ammunition to another customer who was clearly of age because he didn't have his I.D.
In the end, one out of four stores sold to the 16-year-old. Although the teen could buy ammunition, he couldn't buy cigarettes at a metro gas station or spray paint at a metro Lowe's. FOX4 also learned some pet stores won't even sell fish, frogs or gerbils to anyone under 18.
While more stores appear to be following federal law, the teen was shocked that he could buy any high-powered ammunition at all — especially now when school shootings are in the forefront of our national discussion.
"It makes you really think about how your life could change easily just because someone didn't card someone," the teenager said. "I was really expecting to get carded everywhere we went because of what's happening recently."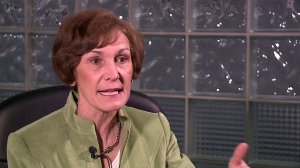 FOX4's findings angered Kansas State Sen. Barbara Bollier, a moderate Republican who believes in responsible gun ownership.
"I feel helpless and speechless that why can`t people — why aren't they following the law? So the question needs to be asked: How are we enforcing the law?" Bollier said.
Bollier wants restrictions to keep guns and ammunition out of young hands but needs voters support to trigger such action.
"We must change. We must stop. If it's just getting the ammunition out of access, that would be a huge step," Bollier said.
"Until people choose to vote on this issue, make it a primary voting issue and say I want to elect someone that`s going to work on anti-gun violence, I don`t — on my side, I don`t have the numbers to pass legislation to help these things," Bollier said.
FOX4 also shared the investigation's findings with John Ham, spokesman for the Bureau of Alcohol, Tobacco, Firearms and Explosives. He's concerned the 16-year-old could buy handgun ammo meant only for someone who's 21 and over.
Under current federal law, Ham said the retailer won`t face any penalties because they didn't "knowingly" sell to a minor.
"It`s not in compliance with federal law," he said. "At the same time since it's a knowing offense, it would be difficult for any type of prosecution or any type of criminal charges."
Until Congress adds more firepower to current law or states enact their own enforceable laws, Ham said retailers are the front-line of defense to ensure ammunition is kept out of minors` hands.
"I think, in this instance, it`s an opportunity for us to reach out to the industry, to the retailers, and remind them what the federal law states and remind them that this is an issue and it`s something that they need to ensure that their policies internally are addressing," Ham said.
However, Ham said FOX4's findings show more retailers are taking this issue seriously, but the industry still isn't perfect.
"I`m pleased that in following up on this story from two years ago, we've seen the difference that we have seen/ Clearly, there`s still work to be done, and we need to continue to address it," Ham said. "One store is one store too many."
Missouri State Rep. Stacey Newman issued a statement in response to FOX4's findings:
"There is no excuse for gun stores being willing to ignore federal law by selling ammunition to minors. There is no excuse for Missouri NOT to pass a state law banning ammunition sales to minors, which I've filed several years in a row.
"I hold our local merchants responsible in allowing young people to buy unlimited bullets without asking any questions. They must at least display signs stating the federal legal ammunition age and stop ignoring federal law with the excuse "they didn't knowingly sell."
"With heightened gun violence by young men who aren't legally able to possess firearms, it is vital that local businesses follow the law. They should be held criminally liable if they do not – particularly in the state of Missouri."
The store that sold ammunition to the teen immediately investigated the sales.
Great Guns told us, in part:
"We at Great Guns were surprised to hear of your finding regarding the sale of ammunition at our store, and if indeed the sale of ammo to an under age customer did happen, it was certainly done against our policy, sales representative [sic] training and our commitment to comply with the laws that govern these activities. Great Guns firmly believes that is in our best interest and the interest of the community that we take every precaution to prevent under age customers from purchasing firearms or ammunition.
"We have taken the oppurtinuty [sic] to remind all our associates of the importance of this matter, and taken the time to review and refresh all of our sales associates on the importance of knowing the laws regarding these sales and the need to check identification at the point of sale.
Thank you for your concern and commitment to ensuring the safety of our community."
Walmart and Dick`s Sporting Goods have changed their policies regarding the sale of ammunition and guns in the wake of recent school shootings.
In a statement, Walmart said:
"In light of recent events, we've taken an opportunity to review our policy on firearm sales. Going forward, we are raising the age restriction for purchase of firearms and ammunition to 21 years of age. We will update our processes as quickly as possible to implement this change. In 2015, Walmart ended sales of modern sporting rifles, including the AR-15. We also do not sell handguns, except in Alaska where we feel we should continue to offer them to our customers. Additionally, we do not sell bump stocks, high-capacity magazines and similar accessories. We have a process to monitor our eCommerce marketplace and ensure our policies are applied. We take seriously our obligation to be a responsible seller of firearms and go beyond Federal law by requiring customers to pass a background check before purchasing any firearm. The law would allow the sale of a firearm if no response to a background check request has been received within three business days, but our policy prohibits the sale until an approval is given. We are also removing items from our website resembling assault-style rifles, including nonlethal airsoft guns and toys. Our heritage as a company has always been in serving sportsmen and hunters, and we will continue to do so in a responsible way."
Cabela's did not respond to FOX4's inquiries.