This is an archived article and the information in the article may be outdated. Please look at the time stamp on the story to see when it was last updated.
OLATHE, Kan. – On Tuesday night, convicted murderer Frazier Glenn Cross was sentenced to death by lethal injection for killing three people outside the Jewish Community Center and Village Shalom in April of 2014. Before he learned his fate, he heard from the families of the shooting victims.
Family members of Doctor William Corporon, his grandson Reat Underwood, and Terri LaManno gave emotional statements in court, talking about their pain and were able to weigh in on Cross' fate.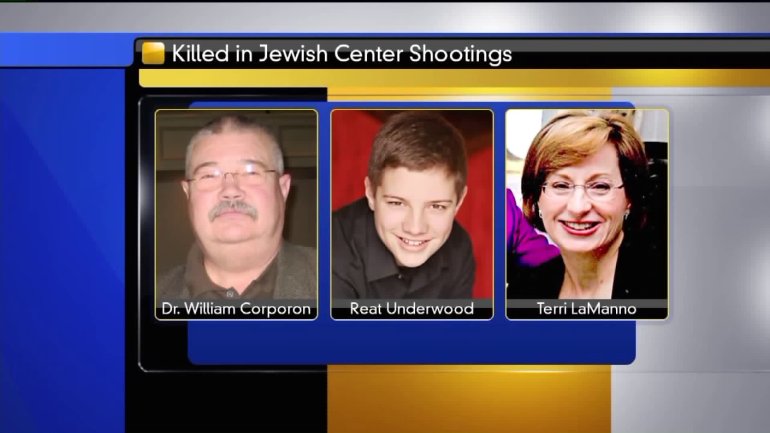 "Because of your ignorance, and your hate, and your evil, you murdered my dad and my son," said Mindy Corporon.
The 74-year-old white supremacist Cross intended to kill Jewish people, but ended up killing three Christians. That piece of this story not lost on Corporon's son Will.
"I pity you. I feel sorry for you; you never experienced a day of love in your life," he told Cross.
During her statement, Melinda Corporon, wife to William and grandmother to Reat, recounted a busy Sunday where everyone had a job. Dr. Corporon was to take his grandson to the Jewish Community Center for a singing competition, or so they thought.
"The last words I said to Bill were, 'you have the most important job.' He said, 'I know.' And he did have the most important job; he took our precious Reat to heaven with him," she said.
And the daughter of Terri LaManno, who lost her mother way too quickly and way too soon.
"What you took from me was my rock. I would ask you how you feel if I came into your life and killed people you love. I'm not like you," said Alissa LaManno.
The pain from each person who spoke about their heartbreak at the hands of evil was overshadowed by the resolve of these victims to fight the type of hatred that infects Cross and those like him
"People of all faiths are reaching out to one another and learning about what we have in common, rather than what makes us different," said Mindy Corporon.
"I leave you with just one thought: that you pray for my family, and the Corporon family and that we will be remembered because we will make a difference in this world," said Jim LaManno.