This is an archived article and the information in the article may be outdated. Please look at the time stamp on the story to see when it was last updated.

(CNN) — Black smoke billowed over downtown Lynchburg, Virginia, after tank cars full of crude oil jumped the track and caught fire Wednesday afternoon, city officials said.
Between 12 and 14 cars from a CSX freight train were involved in the derailment, which occurred along the James River and left oil burning along the river's surface, city government spokeswoman JoAnn Martin said. Buildings near the derailment have been evacuated, and firefighters let the blaze burn out, she said.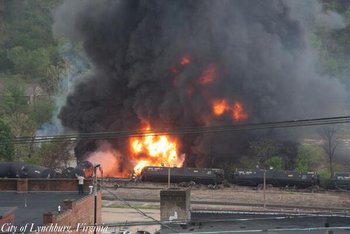 In a brief statement Wednesday afternoon, CSX said three of the cars were affected and the fire was out.
An oil boom in North Dakota and Canada has led to a fourfold increase in the amount of crude shipped by rail since 2005, according to the U.S. National Transportation Safety Board. Environmentalists and regulators have been paying more attention to those shipments since a July derailment and fire that killed 47 people in a small town in Quebec.
In March, environmentalists warned against having trains hauling oil from North Dakota's Bakken shale pass through downtown Lynchburg en route to a storage depot in Yorktown. Glen Besa, director of Virginia's Sierra Club chapter, said Wednesday's accident only heightens those worries.
"This train track runs right through the heart of Richmond, by the way. This could easily have happened in the heart of the capital city," Besa said. He said it wasn't clear whether the oil would burn off completely without leaving residues on the ground or in the river.
"These are the questions that should have been asked before we started doing this," he said.
Martin said Lynchburg's drinking water wasn't affected by the spill. But in Richmond, more than 100 miles downriver, authorities have begun drawing drinking water out of a separate canal rather than the James as a precautionary measure, said Angela Fountain, a spokewoman for the city's Department of Public Utilities.
By Matt Smith and Deanna Hackney. CNN's Jonathan Helman and Mike M. Ahlers contributed to this report.