This is an archived article and the information in the article may be outdated. Please look at the time stamp on the story to see when it was last updated.
KANSAS CITY, Mo. — The man police have in custody suspected of intentionally crashing into and killing a teenager outside the Somali Center Thursday evening is someone friends believe Adam Hussein,  the 15-year-old victim, has encountered before.
Thursday evening, at about 5:30 p.m. Adam Hussein had just left a prayer service he led, and was getting in a car when a man in an SUV slammed into him, severing his legs and killing him.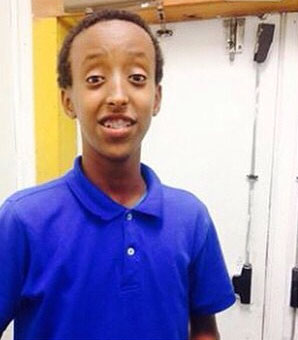 Friends of Adam, who was a student at Staley High School in Kansas City North, say Adam recently called police to report a man prowling suspiciously around the mosque near Admiral Blvd. and The Paseo.
After Adam Hussein's 911 call, friends say police arrested a man a month ago outside the Somali Mall on Independence Ave.
"He was threatening people at Somali Mall and pointing guns at them and driving around with his van and saying Quran is worse than Ebola," said Muhammad Musa, Adam's friend. "A lot of witnesses were there but they didn't speak up," he said.
But Musa says Adam made the call to police.
Adam's father is a respected leader and teacher at the Somali Center. After that incident last month, the assistant director at the center said he asked police for extra security. He said they responded to his request. He also praised their quick response in Thursday night's attack.