This is an archived article and the information in the article may be outdated. Please look at the time stamp on the story to see when it was last updated.
KANSAS CITY, Mo. -- Loved ones are shocked after two teenagers were found shot Monday at Truman Road and Hardesty Avenue in KCMO.
Fifteen-year-old Jesus Reyes was pronounced dead at the scene, and the other victim has life-threatening injuries.
There was a vigil Tuesday to honor Reyes. His friends called him "Boots," and said he was well known for his creativity as a graffiti artist.
"He was just starting life and starting to enjoy things," said Melody Meek, whose son was friends with Reyes, "and now it's all taken away from him."
Officials with KCPD said the shooting that killed one friend and left the other clinging for his life didn't happen at the intersection where they found the boys in a car. They didn't find any shell casings nearby and said they're continuing their investigation to find out what happened.
KC police said they have two people of interest in custody under 24-hour investigative holds in relation to the shooting.
"It's sad," Jesse Jimenez said, "especially a young kid with that much potential. Going out like that, it's not fair."
Jesse Jimenez knew both victims for years from the Penn Valley Skate Park. He used to bring them everywhere and said they were good kids who didn't have enemies.
"From what I knew, all they did was just skate," Jimenez said, "stuck to themselves. Those two were like brothers."
As Jimenez grieves over the loss of Reyes, he prays for the other victim.
"We can`t lose both of them," Jimenez said.
On Wednesday night, 13-year-old Andrew Chavez, a friend to both teens, said Reyes was an eighth-grader at Northeast Middle School and a true friend. He said he and his classmates are shocked that someone shot the two teens.
"I knew Jesus. I know his sister. His sister goes to school with me. Me and her are in the same grade and me and her are really close. Once I found it out, it was really hard for me and all of the students at Northeast," Andrew said.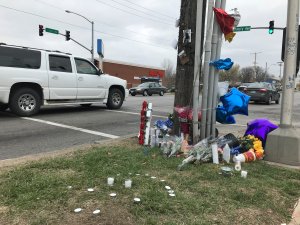 With more questions than answers about the shooting, friends are trying to find comfort in Jesus's memory.
"I want for us to remember him and know that he's watching over us right now," said Alejandro Martinez, whose older brother was friends with Jesus.
Meek's son was friends with Jesus, and she started a GoFundMe to help his mother with funeral expenses.
"She lost her baby, so it's really hard for her right now," Meek said.
The other shooting victim shot is still in the hospital, according to Kansas City police. Meek said she talked to his mother, who said he was awake and breathing on his own as of Wednesday afternoon.