This is an archived article and the information in the article may be outdated. Please look at the time stamp on the story to see when it was last updated.
KANSAS CITY, Mo. -- Friends of a 13-year-old boy killed while crossing a busy Northland highway Thursday night are wrestling with their sadness and loss.
They've never lost someone like this before, and it's obvious they are hurting.
FOX 4's Meagan Dillard spoke to friends, who say it was Jons'ey Sanders, 13, who was killed on Highway 169 near Englewood Road as he and two friends ran across it.
Jons'ey had almost made it to the shoulder, when he was hit.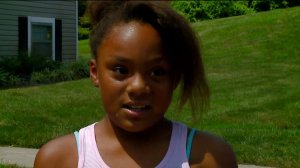 "I feel like he had a whole life planned, and I just couldn't believe it because I'd been hearing on the news about people dying at such a young age, but I didn't know those people," said the little sister of one of Jons'ey's friends.
She would tag along with them and they'd let her play with them.
"We would play tag together and I would always be it because I'm the slowest one there," she said.
Her big brother said he often played football with Jons'ey, and missed him coming over today to play.
"He usually comes up here and gets me and we go down and play football. So I'm thinking he's going to come up here and get me one day, and I forgot that he's gone," said his friend, Adonis Guerra.
When he heard about Jons'ey 's death, he said he froze, dropped his phone and started crying.
Another resident of a nearby apartment complex said she walked down near the accident when she saw flashing lights.
She heard the sounds of Jons'ey 's mother crying.
"You could hear the pain in her heart, in her voice, in her screams, her cries," Tasha Gutierrez said.
They wish people would stop crossing the busy highway so no one else has to experience this grief.
"Why he ran across the highway or whatever," said Adonis Guerra. "He should've thought twice about it honestly. I really do miss him a lot."
The driver reportedly tried to avoid hitting the teen, but couldn't stop. Accident investigators say charges are not expected against the elderly person driving.