This is an archived article and the information in the article may be outdated. Please look at the time stamp on the story to see when it was last updated.
BLUE SPRINGS, Mo -- Friday was a difficult day for Blue Springs South High School students as their friends recover from a devastating car crash that severely injured three of the four victims.
One of the teens involved in the accident on Taylor Road has been released from the hospital. The others have very serious injuries that will keep them there for a while, but the three teens who are still in the hospital are getting better and in stable condition.
Investigators said speed was a factor, but the crash is still under investigation.
Where the teens crashed is a popular cut-through for students to take after school -- a narrow, straight, very hilly road  that could have been fatal.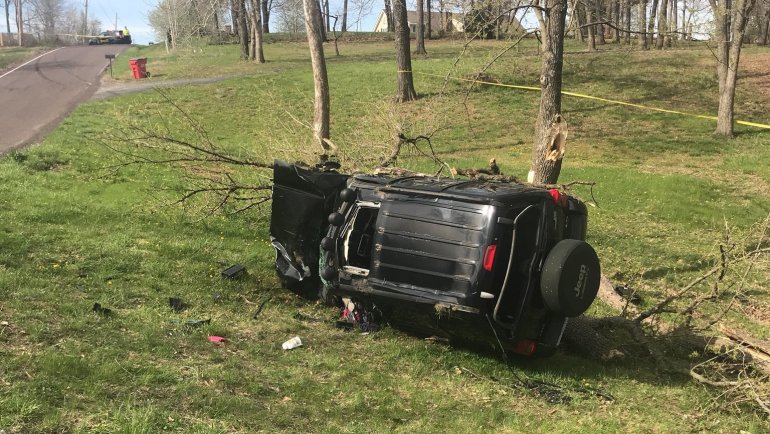 "It made me very sick. I felt like I was going to puke. It's devastating," said Sue Scheetz, who owns the yard where the crash happened.
Scheetz's property spans a big hill on Taylor Road, a favorite place for teens to speed after school, she said.
"I have asked the police or the sheriff to come and sit in my driveway," the Blue Springs resident said.
The crash has been a big lesson for other teenagers. Trystan Harris and Nahshon Rick said they attended a safety seminar at school just last week where a quadriplegic crash victim talked to students about the dangers of reckless driving.
But it's the example set by their friends that's had the biggest impact.
"Whenever my friends are speeding I am going to tell them to slow down," Rick said.
"It's a big deal, wearing your seat belt and driving cautiously," Harris agreed.
On Thursday afternoon, the teens said their phones started blowing up with the news four of their close friends were badly hurt after coming over the hill on Taylor Road. The driver lost control and slammed into a tree.
"I thought it was just a joke until I heard the helicopters," Rick said.
"I live close to the scene, so I could hear helicopters. I started to drive over to it. The road was blocked off. I could hear all of the ambulance and police." Harris said. "I was just scared for them and worried for them."
Rick and Harris headed to the hospital after school. The teens said a group of friends have been hanging out there to let their friends know they are supporting them even though they can't see them yet.