This is an archived article and the information in the article may be outdated. Please look at the time stamp on the story to see when it was last updated.
OVERLAND PARK, Kan. — SPIN! Pizza is teaming up with Food Equality Initiative, which opened the nation's first food bank for food allergies and celiac disease, to help raise money to keep the pantry stocked for families who need specialized foods.
Food Equality Initiative Inc., is a non-profit organization with a mission to improve health and end hunger for people with food allergies and celiac disease.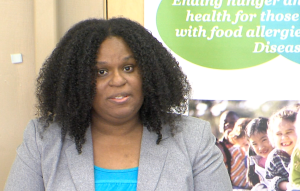 Emily Brown, CEO of Food Equality Initiative, said the idea came during the struggles her family faced when her daughter was diagnosed with food allergies.
"At the time my husband was a social worker for the state and we found it very challenging to afford many of the foods that we now needed to have in our home to maintain our daughter's health. At some point we decided to enroll in the federal nutrition program, Women and Infants and Children, better known as WIC."
Brown says although she is very appreciative of the help they received from WIC, it was very restrictive.
Here in Kansas City, Brown says there are approximately 8,000-14,000 individuals with food allergies struggling to afford safe and healthy food.
Gluten-free foods and allergen-free foods typically cost two to four times the amount of non-allergen foods.
While a gallon of dairy milk might cost on average, $4.95, almond milk costs $7 a gallon.
"We went to our first food pantry and I was really shocked to see the foods that we needed were not there as well," said Brown. "All that was really safe for us to eat was about two potatoes and a jar of salsa… That experience was really eye-opening to me about how great the need was for this service."
Food Equality Initiative was founded in December 2014.  In April 2015 they opened the nation's first pantry in Overland Park for people with food allergies.
People at or below 250 per cent of federal poverty guidelines may use the pantry.
They offer non-dairy milks, gluten-free flours and pasta and breads, alternatives to peanut butter and egg-replacers.
"Just trying to purchase safe foods for them is quite a challenge," said Jan DeMoure, mother of four boys, three of whom have food allergies. "It gets quite expensive. We've been very blessed and thank you for Food Equality Initiative's pantry."
The bike ride fundraiser on May 23 will be at SPIN!'s original Overland Park location, 6541 West 199th Street at 6:15 p.m. Cyclists can follow either a shorter, easier or longer, more challenging route. SPIN! will donate $1 per bike rider to FEI. SPIN!'s hopes to raise about $500 for the Food Equality Initiative.
"We're so grateful for our partnership with SPIN and the upcoming fundraiser," said Brown. Brown says they receive food donations from manufacturers, but they also have to purchase food and need the funds for specific purchases.
Afterward, if cyclists want to stay and have dinner, they will get 20% off their food and they'll be collecting donations at the restaurant by adding a donation to the check.
SPIN! has been a longtime restaurant choice for people with food allergies, providing gluten-free crust and dairy-free cheese.
"What we're giving here is not just hope. We're giving health. This is what they need. It's just as important as someone's insulin, their diabetic, I mean heart or blood pressure medication. It is vital for them," said Brown.