This is an archived article and the information in the article may be outdated. Please look at the time stamp on the story to see when it was last updated.
KANSAS CITY, Mo. — Great legacies can come from humble roots.
Before moving to Hollywood, filmmaker Walt Disney got his start in a small building just off Troost Avenue. Now, a group of digital storytellers wants to bring back the magic.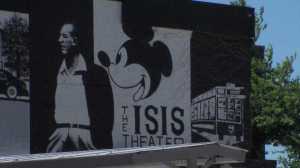 Walt Disney opened the old Laugh-O-Gram Film Studios back in 1922. The building still stands, although it's been vacant for years. Now, a group from Kansas City wonders if the next Walt Disney couldn't get his or her start in the same building.
Long before academy awards and theme parks, Disney began his climb to the stars at the corner of 31st and Forest. Tributes to Disney's magic are still nearby.
The next generation of movie masters could come from group gatherings like this one on Wednesday morning, as non-profit leaders discuss digital storytelling and the use of computer-generated films and features as a potential money-maker.
"Our primary purpose is to restore the building where Walt Disney began his career in filmmaking," local attorney Dan Viets said. Viets represents a group trying to preserve the Laugh-O-Gram building, which is listed on the National Register of Historic Places, but was nearly demolished in the early 2000's.
"I think it's entirely appropriate that young artists who want to emulate Walt Disney's life should do it in the same building where Walt began his career," Viets said.
"Virtually, all the major leaders from all the major animation brands we know today were recruited and worked in that building with Walt Disney," Ron Green, local media professional said.
Green recently retired, after working 32 years as a video production manager at Hallmark. He cites a study that shows more than 30,000 digital storytellers living in the metro. He believes the Laugh-O-Gram building is the perfect place for their training.
"Is there another Walt Disney growing up in that neighborhood who hasn't been discovered yet?" Green said. "We'd like to be able to find the talent, and give kids who haven't considered digital storytelling as a career option."
Green says in a best case scenario, the proposed digital storytelling center wouldn't open for three years.
Viets also wants to see the Laugh-O-Gram building serve as a museum to Disney's work here in Kansas City. He says financial help is coming from high places. Viets says members of the Disney family have provided grant money to assist in the upkeep of the building, and to establish the digital storytelling center.
Here's a link to Dan Viets' website with more history of the Laugh-O-Gram building.
Follow Sean McDowell's travels via his FOX 4 Facebook page.