This is an archived article and the information in the article may be outdated. Please look at the time stamp on the story to see when it was last updated.
GARDEN CITY, Mo. – A Facebook post by an elected official in Garden City brings more heat on the small Missouri town.
Garden City Mayor Daniel Cantrell has recently been in the news after laying off the city's entire police department. Now, what many are calling a racist post has put him back in the headlines.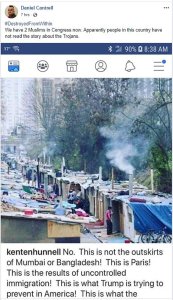 Beginning with #DestroyedFromWithin, the Facebook post reads, "We have two Muslims in congress now. Apparently, people in this country have not read the story about the Trojans."
It references a story from Greek mythology where the Greek army staged a sneak attack on the city of Troy by hiding in a Trojan horse.
Residents of Garden City and members of the Islamic community are taken back by what they are calling a discriminatory and racist post.
"It offended me as much as this guy is offending me right now and he should be offending a Christian sitting next to me, because it is just an offensive statement," Arif Ahmad, a Muslim and member of the Islamic Center of Johnson County said.
"If we start taking notice of these few and far between people, we would probably not get a good night sleep, ever," Ahmad said.
Ahmad believes public officials should be held accountable for what they say.
"And I believe the ones who voted him to power should be the ones who should take action."
FOX4 made several attempts to talk to Cantrell at his Iron Works business, on the phone and at City Hall. He was nowhere to be found.
After we visited City Hall, the offensive Facebook post was deleted and replaced with this, "Fox 4 News is trolling my Facebook. Be great if they knew anything about the truth. So far, they have failed at that. What`s next?'
"I don't agree with any discrimination against anybody," Garden City resident Dianne Linder said. "If he is going to be a racist, I don`t want a racist working for me and he is working for me in Garden City."
In that post Cantrell said he deleted it because he "didn't want them (FOX4) harassing anybody else that had chimed in on my post that happens to believe the same thing I do."
Garden City resident Shawn Manning agrees. "It will make me look at the ballot next time and contemplate whether or not that person is the right person for this position."
FOX4 has extended an open invitation to Mayor Cantrell to interview about the post and explain his side of the story.