This is an archived article and the information in the article may be outdated. Please look at the time stamp on the story to see when it was last updated.
GARDNER, Kan. -- The luck of the Irish is lucky enough for a metro family.
They're putting the finishing touches on their float for Kansas City's St. Patrick's Day parade as they celebrate their 40th year of taking part in the parade tradition.
"It's fun to see all of our hard work put into something, and everyone gets to see it," said Max Skinner, who is participating in the parade.
For four decades now, the O'Connor family -- and extended family -- have participated in Kansas City's annual St. Patrick's Day parade.
"We at one time talked about maybe stopping being in the parade, and my oldest daughter said, 'You better stay in because my kids are going to be in it,' and this is before she even had any kids. And that was 15-20 years ago, so we've stuck with it and will probably stay with it," Mike O'Connor said.
They have a huge family, and they all get together every St. Patrick's Day with their giant float.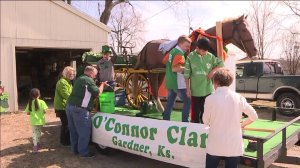 "I have a distant cousin who went to Ireland and bought this cart in Killarney," O'Connor said.
His cousin had it shipped back to the U.S. and fixed it up. Now, this will be their second year having this particular float in the parade.
"It's fun for one thing, but we always have a lot of family join in, good or bad weather," O'Connor said.
"It's just really fun to walk around in the parade and see all different kinds of people and celebrate our Irish heritage," Skinner said. "It`s always important to know where you came from and know about your family history."
The parade starts at 11 a.m. Saturday at Linwood and Broadway, then proceeds south along Broadway to 43rd Street.
"People will call us or get on Facebook or email and say, 'What's your number this year?' and we tell them, and they say they'll watch for us. And as you're going down through the crowd, you`ll invariably hear somebody yelling your name, and you`ll look over, and it`s someone you know. It`s really a lot of fun," O'Connor said.
"You can`t really describe it," Skinner said. "You just feel lots of pride, just being in the parade, and people get to see you and your family. It's really fun and we take pride in that," Skinner said.
Even if you're not attending the parade, keep in mind roads along the route will be closed. Expect some extra closures where the parade starts and ends.
If you don't want to fight the traffic and crowds, you can watch the parade on FOX 4 or fox4kc.com this Saturday from 11:30 a.m. to 2 p.m. And if you want to watch it twice, tune in again at 11 p.m. Saturday.