This is an archived article and the information in the article may be outdated. Please look at the time stamp on the story to see when it was last updated.
CORPUS CHRISTI —
Friday afternoon: Hurricane Harvey has strengthened to a Category 3 storm
Hurricane Harvey is barreling down on vital oil and gas facilities on the U.S. Gulf Coast that serve as the nerve center of America's energy infrastructure. (If you don't see the livestream in the player above, click here.)
The biggest risk is that this Category 3 storm causes prolonged disruptions to the critical refineries along the Texas Gulf Coast, which is home to nearly one-third of the nation's capacity to turn oil into gas, diesel and other products.
By early Friday, warnings of "life-threatening" rain from Hurricane Harvey have forced the evacuation and shutdown of several refineries. Gasoline prices immediately ratcheted steadily higher, a trend that could continue for some time depending on the severity of the damage.
Not only will the storm limit the Gulf Coast's ability to refine oil, but it's already shut down the flow of oil shipments in and out of the Port of Corpus Christi, the nation's leading port for crude oil exports.
"We may have never had a storm like this. The impact on the energy industry could potentially be devastating" for the next week, John LaRue, executive director of the Port of Corpus Christi, told CNNMoney.
The port has worked all week to prepare for the storm. LaRue said pilots stopped boarding vessels Thursday afternoon and maintenance workers have tied down everything that projected winds of 125 miles per hour could "turn into missiles or projectiles."
Hurricane Harvey also forced the shutdown of the Houston Ship Channel on Friday for incoming and outgoing vessels, Platts reported.
To meet America's enormous appetite for oil, more than 3 million barrels of waterborne crude gets shipped to the U.S. Gulf each day from places like Mexico, Colombia and Saudi Arabia, according to ClipperData. The U.S. Gulf Coast also exports about 1 million barrels of crude each day to customers overseas.
Hurricane Harvey is also disrupting oil and natural gas production in the Gulf of Mexico and inland as energy companies evacuate rigs and platforms. The U.S. Gulf of Mexico is home to almost one-fifth of total U.S. oil output, according to the EIA.
"It's the key energy hub of the U.S," said Matt Smith, director of commodity research at ClipperData.
Harvey is the first major hurricane to seriously threaten the U.S. Gulf Coast in several years. Hurricanes Gustav and Ike in 2008 as well as Hurricane Isaac in 2012 all knocked more than 1 million barrels of Gulf oil production offline, according to the EIA. Those hurricanes also temporarily disrupted refining capacity.
Hurricanes that land in Texas tend to have little impact on oil production, but more significant consequences for refining, according to Tom Kloza, chief oil analyst at the Oil Price Information Service.
Related: Gas prices will jump thanks to Hurricane Harvey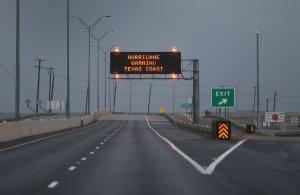 Harvey is projected to first strike near Corpus Christi, which is home to five different refineries that can process up to 868,000 barrels per day, according to Kloza. That's roughly 4% of the country's refining capacity.
The National Weather Service predicts the storm will then move north along the coast towards Houston, which is an even bigger refining center. The Houston, Texas City and Baytown region have 11 refineries that can handle 2.7 million barrels per day, according to Kloza. That's about 14% of the country's refining capacity.
"If the storm camps out between Corpus Christi and Houston for several days, infrastructure will stay offline for longer and there will be bigger impacts on pricing," said Jenna Delaney, senior oil analyst with S&P Global Platts.
Houston also marks the beginning of the Colonial Pipeline, which transports more than 100 million gallons of gasoline, heating oil and aviation fuel each day to as far as the New York harbor. Power outages during Hurricanes Katrina and Rita in 2005 forced the shutdown of parts of the Colonial Pipeline for several days.
Related: Hurricane Harvey cost estimate: $40 billion
Kloza said that normally refining is knocked offline for just a brief time, making the impact on prices just fleeting. But that depends on the severity of the storm.
"Katrina was the exception," Kloza said, referring to the 2005 storm that badly damaged Gulf Coast operations.
A Category 3 storm could create outages of two to three weeks due to massive power outages, wind damage and flooding that make it challenging for workers to return, Kloza said.
He predicted Harvey is likely to cause only a short-term jump of 5 to 10 cents per gallon in gas prices, though he said a 25-cent spike in a worst-case scenario is also possible.
"You're talking about a situation where a month from now gas prices will probably be lower. But a week from now they'll be higher," said Kloza.
---
The outer bands of Hurricane Harvey have begun swiping the Texas coast as 35 inches of rain and "catastrophic" storm-surge flooding is predicted following landfall late Friday or early Saturday, the National Hurricane Center said.
The combination of heavy rain, "life-threatening" storm surges, flooding and strong winds could leave wide swaths of South Texas "uninhabitable for weeks or months," the National Weather Service in Houston said. Such daunting language hasn't been seen by CNN's experts since Hurricane Katrina, which left more than 1,800 people dead in 2005.
Harvey's winds are expected to reach at least 111 mph by the time it makes landfall around Corpus Christi, forecasters said.
A hurricane warning is in effect for about 1.5 million people, with another 16 million under a tropical storm warning, the weather service said.
"Texas is about to have a very significant disaster," said Brock Long, director of the Federal Emergency Management Agency.
Residents were urged to evacuate. A mass exodus from the coast caused extensive traffic jams along the state's highways, while other people boarded up windows and stocked up on food and water ahead of the storm, the effects of which are expected to last for days.
After landfall, the storm will stall and dump rain on South Texas and parts of Louisiana into the middle of next week, forecasters predicted.
"All indications from the hurricane center are that this is going to be the first major hurricane the nation has dealt with since 2005," Long said.
Latest developments
— Harvey strengthened early Friday, becoming a Category 2 hurricane with winds up to 110 mph, according to the National Weather Service.
— Isolated tornadoes are possible Friday across portions of the middle and upper Texas coast, the service said.
— President Donald Trump tweeted that he has spoken with the governors of Texas and Louisiana, saying he is "closely monitoring Hurricane Harvey developments and here to assist as needed."
— Texas Gov. Greg Abbott has requested the activation of 700 National Guard members.
— "We are prepared; we are not panicking," Galveston Mayor James Yarbrough said.
— The Ports of Corpus Christi and Galveston are closed.
— Three Galveston-based cruise ships in the Gulf of Mexico diverted to safer water.
FEMA prepared for 'significant disaster'
Those who stay should "elevate and get into a structure that can withstand potentially Category 3 winds from a hurricane," Long, the FEMA director, said.
"The bottom line message is, right now, if people have not heeded the warning, again, their window to do so is closing," Long said. "If they refuse to heed the warning, that's on them."
Long said he is "very worried" about storm surge, or "wind-driven water," slamming coastal areas, saying it has the "highest potential to kill the most amount of people and cause the most amount of damage."
"Over the next five days, we're going to see copious amounts of rainfall, up to 25 inches, possibly, in some areas, with isolated higher amounts," he said. "This is going to be a slow-developing major disaster event for the state of Texas."
FEMA has pre-positioned incident management teams, as well as life-saving and life-sustaining commodities, and search-and-rescue teams in Texas, Long said.
Long said FEMA is "fully engaged" with the White House, as Harvey is poised to deliver a critical test of Trump's abilities as commander-in-chief.
"I think we'll be looking at the potential request for presidential disaster declarations coming up from Gov. Abbott," Long said. "The President has the ability, has the authority to sign off on those to mobilize our support to the state governments."
Officials also worried that Harvey's abundant rain will drench Texas and the region for several days.
"We could see this storm park for almost five days in some places, and we hear 3 feet of rain," said Bill Read, the former director of the National Hurricane Center. "That's just going to be a huge problem for these areas."
Harvey is also causing concern in New Orleans, where heavy rain could usher in as much as 20 inches of rain through early next week and overwhelm the city's already-compromised drainage system.
'I'm trying to be strong'
The threat of Harvey became evident Thursday when several coastal Texas counties issued evacuation orders, leading to hordes of residents sitting bumper to bumper miles.
Rose Yepez told CNN it took her twice as long as usual to drive 140 miles from Corpus Christi to San Antonio, en route to Texas Hill Country.
Private vehicles — along with city buses packed with adults and children carrying backpacks — jammed roads for hours.
"I'm shaking inside, but for them, I'm trying to be strong," a Corpus Christi woman who was waiting with her two daughters to board a bus out of town told CNN affiliate KRIS.
Workers at 39 offshore petroleum production platforms and an oil rig in the Gulf of Mexico also evacuated Thursday, the Bureau of Safety and Environmental Enforcement said.
Houston Mayor Sylvester Turner said anyone not leaving should plan to stay off the roads once the storm starts.
"People need to know, this is not a one-, two-day event and done," Turner said. "Even though it may seem like it will get better, this is a four- or five-day event, starting tomorrow evening, going through Monday or Tuesday."
Staying put, boarding up
First responders like Brittany Fowler stayed behind and waited for the storm.
"Hopefully it doesn't do any damage, but if it does, we've prepared," Fowler, a firefighter in Corpus Christi, wrote on Instagram.
Fowler's family helped by boarding up windows and doors at her home, and she bought plenty of water, food and a small power generator.
Corey Davis, by contrast, was free to go — but opted to stay put, even as Harvey's winds started blowing Thursday night. Instead of packing, she and her relatives took turns climbing a tall ladder to secure plywood over windows at their Port O'Connor home.
"I'm scared, so I'm doing everything that I can to protect (this) little place down here," Davis told CNN affiliate KTRK, "and hope and pray for the best."
Despite the warnings, Elsie and David Reichenbacher prepped supplies and plan to stay put in Corpus Christi.
"I've gone through a lot of hurricanes. I've lived here most of my life," Elsie Reichenbacher said. "I'd rather take care of my home and my animals and be safe here. I'm on high ground with my house."