This is an archived article and the information in the article may be outdated. Please look at the time stamp on the story to see when it was last updated.
KANSAS CITY, Mo. — Gavin Long, the man who shot six law enforcement officers Sunday in Baton Rouge, Louisiana — killing three — suffered from post-traumatic stress disorder, a source involved in the investigation told CNN's Chris Cuomo.
Long joined the Marine Corps in 2005 and worked as a data network specialist, according to the U.S. military.
He was discharged at the rank of sergeant in 2010, after serving in Iraq.
The source also told CNN that Long had filled a prescription for Ativan, an anti-anxiety drug, as recently as June. He also had prescriptions for Valium and Lunesta.
Kansas City connection
Police say Long lived in Grandview and was a 2005 graduate of Grandview High School. He was married in 2009 and divorced in 2011.
Sunday afternoon, police set up a perimeter at 77th Terrace and Troost around what they believe to be Long's home.
FOX 4's Megan Brilley had been to the home earlier Sunday and was met by a man with a gun, possibly an AK-47, who told our crew to leave.
Law enforcement officials told CNN that Long rented a car in Kansas City after the Dallas shootings and drove it to Baton Rouge.
The investigation later headed to Waldo Heights Apartments Sunday, where they believe some of Long's relatives live. Officers had roads near the Waldo Heights Apartments blocked off.
One officer still in critical condition
The officers Long killed were Officer Montrell Jackson of the Baton Rouge Police Department; Officer Matthew Gerald, also with Baton Rouge Police; and Deputy Brad Garafola with the East Baton Rouge Sheriff's Department.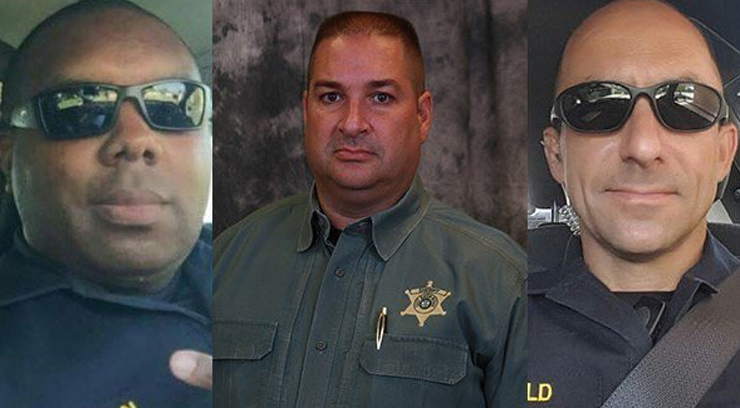 Deputy Nicholas Tullier was also wounded and is currently "fighting for his life," Sheriff Sid Gautreaux said.
Authorities say Long stalked Baton Rouge police before ambushing a handful of them.
"There is no doubt whatsoever that these officers were targeted and assassinated," Col. Michael D. Edmonson of the Louisiana State Police said.
Long was killed in a shootout with police Sunday.
National unrest
The Baton Rouge shooting occurred nearly two weeks after Alton Sterling, a 37-year-old black man, was killed by police outside a convenience store in the city. His death kicked off three tragic days in a row — with the death of Philando Castile in Minnesota and the killing of five cops in Dallas — and tense protests around the country that followed.
Long left a trail of writings, videos and social media posts describing his thoughts, ideas and worldview under the pseudonym Cosmo Setepenra. He legally changed his name to Setepenra last year.
In a video posted to YouTube July 10, Long — who says he is speaking from Dallas — mentions the July Fourth holiday as a celebration of an uprising against oppressive forces. Without mentioning Micah Xavier Johnson — the Dallas shooter — by name, he questions why some violent actions are perceived as criminal while others are celebrated.